Company Profile
Radisson Blu Edwardian Mercer Street Hotel
» Hotels

London networking event - People networking lunch Mercer Street Hotel

Wednesday Sep 4th 2013

Read more

>

London networking event - networking lunch Covent Garden

Wednesday Aug 7th 2013

Read more

>
About Radisson Blu Edwardian Mercer Street Hotel
Mercer Street Luxury Hotel
At the heart of Covent Garden on the historic Seven Dials, Radisson Blu Edwardian Mercer Street Hotel offers 137 air conditioned bedrooms, including studio rooms for longer stays and eight luxury suites with marble bathrooms and triple aspect windows to provide a calm glamorous environment to unwind in.
There is complimentary wifi throughout the hotel, satellite TV and 24-hour room service.
Radisson Blu Edwardian Mercer Street hotel also has six meeting rooms with complimentary wifi for meetings up to 50 guests.
Scoff and Banter Bar and Restaurant
The hotel's bar and restaurant serves Great British Soul food - food with heart that feeds the soul. Robust and substantial, each dish uses the very best quality ingredients cooked just so to deliver all that's best in no-nonsense British eating, fuelling the feel-good in a relaxed and stylish atmosphere.
Just opposite the Cambridge Theatre, Scoff and Banter Bar is perfect for pre-show afternoon tea before taking your seats for Matilda the Musical. Every child takes home a complimentary copy of Roald Dahl's much-loved classic.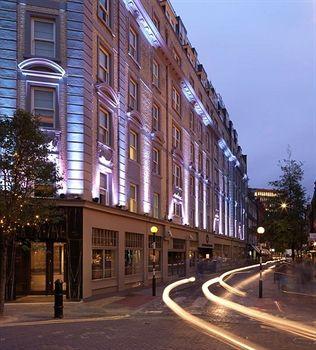 Representatives
General Manager