Company Profile
Karonia Ltd

About Karonia Ltd
Our team have been involved in the solid surface industry from the early 1990's with experience of all facets from initially fabricating through to development and manufacture of product ranges such as our pioneering 25mm thick MISTRAL non porous and replenishable worktops.
Our experience has helped us to design products to the highest specifications with all the design capabilities and practical benefits desired of innovative, forward-looking worksurfaces.
We have a broad spectrum of customers ranging from distributors of our branded products, to furniture manufacturers and building material suppliers. We also work with construction companies, developers and public sector providers on projects in education, healthcare and residential schemes.
We are able to operate on a supply only basis with the option of fabrication services and on-site installation where required. For optimised efficiency we have the versatility to make our products to specific sizes to meet your project requirements. This helps product wastage, therefore increasing your profitability. Sometimes the key to winning a project is the ability to be able to offer something different to the client, along with material choices colour can create the signature look that designers seek. We are constantly evolving product palettes and creating new colours based for our clients needs.
Over the years we have built up many relationships with manufacturers of associated products. This includes other worktop materials such as laminate and wood as well as furniture, taps and appliances. Where projects require these additional items we can be your single source, streamlining the the ordering and delivery process.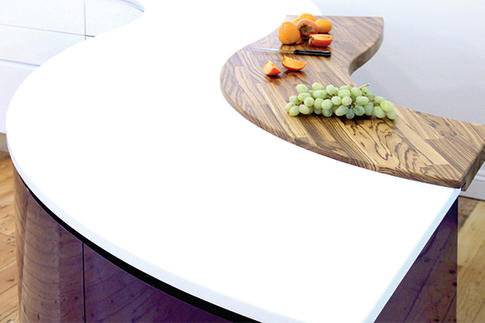 Representatives
Business Development