Company Profile
Hotel Chocolat Cocoa Vaults

Bringing together those in hospitality, tourism, leisure, bars and restaurants, food and drink
About Hotel Chocolat Cocoa Vaults
Hotel Chocolat's School of Chocolate at Cocoa Vaults in Covent Garden is available for private hire for bespoke events, parties, photo shoots and as a filming location. Just tell us what you'd like and we'll create it.
Discover the secrets of the cocoa bean at our exclusive event spaces. Our beautiful and intimate venues make a perfect setting for our School of Chocolate, with chocolate-making sessions, tasting events and all kinds of bespoke parties and events for everyone from kids to corporate teams.
Learn the noble art of chocolate making in our Bean to Bar Experience. Our own chocolatier will show you how to roast and conch cocoa and guide you as you make your own bar of chocolate to take with you.
You could take your appreciation of chocolate to the next level with a Chocolate Tasting Adventure – a two-hour guided tour through the flavour nuances of chocolate in which you'll learn how best to taste it, pair it and discern the distinctive flavours of fine cocoa from around the world, with a delicious glass of our house Prosecco.
Our Corporate Chocolate Tasting Adventures make for unique private events, perfect for informal networking, team building, staff incentives and more.

We also offer creative Children's Chocolate Workshops, with chocolate decorating and a fun and educational introduction to cocoa and chocolate.

In all our events we like to offer delicious goody bags to take home with you!

For bespoke events, Christmas parties, private hire or teambuilding enquiries, please send an email to Arran Main through his Urbano profile.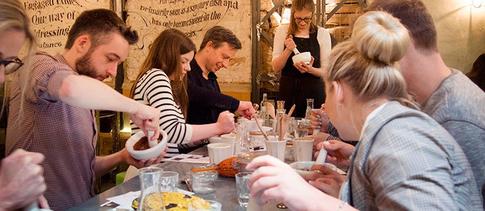 Representatives