Company Profile
Bounce - Shoreditch

Bringing together those in hospitality, tourism, leisure, bars and restaurants, food and drink
About Bounce - Shoreditch
BOUNCE venues have an exclusive private room for your unique event, featuring a customised photo booth at Shoreditch or a state of the art integrated karaoke system at Farringdon.
Each Bounce venue has a luxurious and exclusive private room, drawing inspiration from the authentic heritage of ping pong as a high society parlour game, juxtaposed with the heritage of the local area.
PRIVATE HIRE
Bounce Shoreditch is the ideal setting for any private event for up to 100 people.
Contact Jack through his Urbano Profile to discuss your party requirements
Available for both daytime and evening events, each room boasts:
3 bespoke designed Butterfly ping pong tables
A cocktail bar with a dedicated bartender
Ball collectors, no need to chase your balls
LCD Screen and sound system for presentations
Plug and play iPod connectivity
UV ping pong - with iridescent artwork occupying the entire landscape
Option to upgrade to a Premium Booking - let a Bounce Games Maker take care of everything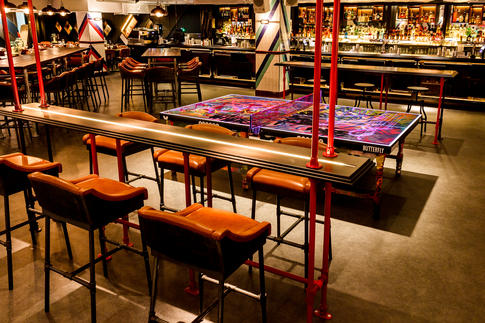 Representatives