Company Profile
Century Club Ltd

Bringing together those in hospitality, tourism, leisure, bars and restaurants, food and drink

A networking community for those in branding, marketing, communications, digital, TV, film, and related media and creative sectors.
About Century Club Ltd
Discreetly hidden behind a door on Shaftesbury Avenue is Century private member's club.
The club boasts four floors of member's facilities including a cocktail lounge, two restaurants, a screening room, a performance stage and Soho's largest roof terrace.
With Wi-Fi throughout the club and plenty of space for daytime meetings, Century is the perfect club for business or pleasure.
The Century Club has four floors covering over 15000 Sq ft. It includes three bars, a cocktail lounge, a cinema/screening room, a performance stage, a private dining room, two restaurants, a unique events space and Soho's largest roof terrace.
The second floor restaurant is perfect for a business breakfast, a lunch time catch-up or a leisurely dinner. Alternatively, you can enjoy a bite to eat on the Roof Terrace.
The Roof Terrace has a stunning view over St Anne's Churchyard and is the perfect spot for a leisurely drink. There's also a short cocktail list where you can choose to have your drink served hot on a cold night, or cold on a hot night.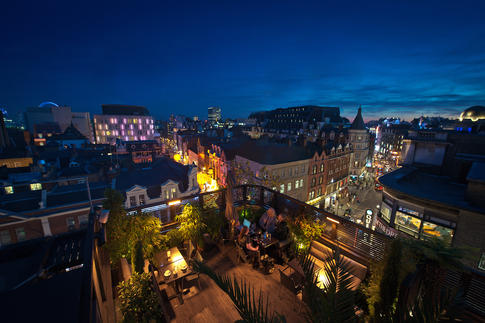 Representatives
General Manager

Head of Memberships

Events Manager

Events Manager

Head of Membership