Company Profile
Wazoku Ltd

London networking event - Urbano Business networking breakfast with Neil Maiden

Thursday Mar 10th 2016

Read more

>

London networking event - networking lunch at Bury Court

Wednesday Feb 17th 2016

Read more

>
About Wazoku Ltd
Wazoku is a leading collaborative idea management software company – empowering enterprise, public sector and third-sector organisations to innovate and achieve their corporate goals through structured, managed, measured and sustainable collaborative idea management, innovation and employee engagement programmes.
Our clients include Waitrose, BBC, AVIVA, Capita, Prudential, Diageo, Faber & Faber, Huddle, IET, Ocado and many more leading industry companies.
Wazoku's collaborative idea management software Idea Spotlight enables you to create private environments, forums and groups to gather ideas from internal contributors and/or external audiences such as partners, customers or the public. Communities allow you to securely organise and manage all challenges, across all stakeholder groups, within a single platform.
Read more about what we do here: Wazoku Products
Read about our work, watch videos and download guides
The EveryDay Innovation Report
Despite continued universal acceptance that innovation is vital to economic, organisational and individual success, many British businesses are still failing to act. It is now time to shift the conversation from the same old rhetoric about the imperative to innovate, to a more meaningful one about what can be done to overcome failure and drive tangible, effective and sustainable activity.
Our survey of over 1,000 board members, senior managers, middle managers and everyday workers within large enterprises across the UK sheds further light on the innovation challenges facing businesses.
If you would like to find out how we can help with specific challenges get in touch.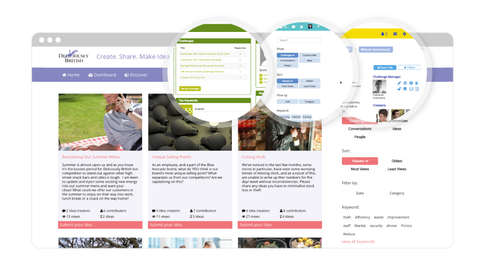 Representatives
Business Developm...