Company Profile
Centre for Accessible Environments

Networking community for those architecture, BIM, construction, design, engineering, property, & related sectors

Shaping the future of work & the workplace - from leadership, recruitment and HRTech to employment, diversity and wellbeing
About Centre for Accessible Environments
The Centre for Accessible Environments (CAE) has been the leading UK authority on inclusive design for over 40 years; we provide consultancy, training, research and publications on building design and management to meet all user needs, including disabled and older people.
CAE pioneered the provision of access guidance for building designers based on collaborative research with disabled people. CAE is a leader in developing the case for designing for disabled people in the context of mainstream inclusive design.
As the recognised experts in the field we can help organisations meet their duties under the Equality Act 2010, through our research, consultancy, training and guidance publications.
What we do
Our services and activities include:
access consultancy, including access audits, design appraisals, access statements and strategic advice
a wide range of training programmes, for both public and in-house delivery
publications, including design guides and specifiers' handbooks
professional journals and electronic news updates
research projects in the UK and overseas
advice to the London voluntary and community sectors seeking to improve the accessibility and sustainability of their premises (funded by the City Bridge Trust)
joint ventures with partners such as RIBA Enterprises
Training
CAE runs a wide range of training courses, seminars and Continuing Professional Development (CPD) workshops relating to access and inclusive design including our longstanding two-day "Access Auditing and the Equality Act" programme which runs frequently and is the foundation course for a career in access auditing and consultancy. We also offer courses accredited by the Institute of Occupational Safety and Health (IOSH) in Managing Accessibility and Reasonable Adjustments, and Fire Safety and Disability.
Our suite of CPD workshops is continually refreshed, keeping access and built environment professionals updated with the latest research and design development.
All venues for scheduled courses and workshops are accessible for wheelchair users and have induction loops. CAE seeks to meet the access requirements of all delegates. On request we can provide, for example, interpreters, handouts in alternative formats, including Large Print and Audio.
For more information visit CAE Training Calendar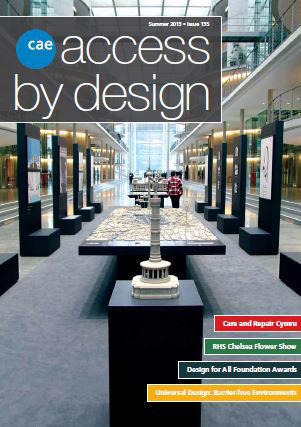 Representatives
Access Advisor