Company Profile
Parla Design

Urbano Build Networking Breakfast Event with RIBA President Ben Derbyshire

Thursday Sep 7th 2017

Read more

>

London networking event - networking lunch at the Reform Social & Grill

Wednesday Mar 30th 2016

Read more

>

London networking event - Marylebone - networking lunch at Bernardis

Wednesday Mar 16th 2016

Read more

>
Networking community for those architecture, BIM, construction, design, engineering, property, & related sectors
About Parla Design
Parla manufactures ergonomic, functional and superior quality furniture which decorate stylish restaurants, hotels and shopping centres.
An established Turkish furniture designer & manufacturer, Parla Design is a 3rd generation family owned business based in Istanbul, where our 6000 sq m factory is a hive of activity, producing over 20 containers of furniture a month.
Seriously committed to supplying the best quality loose & fitted furniture, Parla Design achieves this with a beautiful blend of very experienced traditional handcraft masters working with hi-tech Italian machinery.
Our clients include Jamie's Italian, Double Tree By Hilton, Crowne Plaza and Zuma Restaurant.
At Parla Design, we want to become your 'Solution Partner':
We want to offer you the widest variety of loose & fitted furniture, designed with practicality, longevity, technology and the latest trends in mind.
We want to offer you a high quality service that eliminates all distribution and logistics issues.
And mostly, we want to make sure you feel we add value to your project…
Get in touch to find out how we can help you realise your project via our Urbano Profile: Parla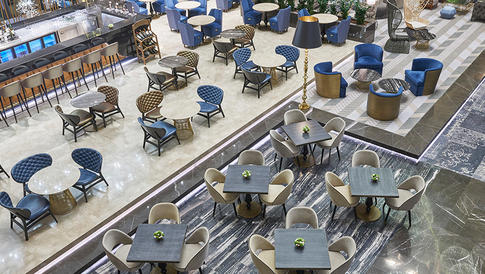 Representatives
Sales Director - ...