Company Profile
Saint-Gobain Multi Comfort Visitor Centre

Urbano Build & People Networking Event featuring Sadie Morgan, founder of dRMM

Thursday Mar 9th 2017

Read more

>

London networking event - Build networking event with George Clarke

Thursday Nov 10th 2016

Read more

>
Networking community for those in architecture, construction, design, engineering, property, proptech, etc

Shaping the future of work & the workplace - from leadership, recruitment and HRTech to employment, diversity and wellbeing

Urbano is a connected business community, dedicated to helping our members build sustainable futures.
About Saint-Gobain Multi Comfort Visitor Centre
The Saint-Gobain Multi-Comfort Visitor Centre is a showcase for innovative and sustainable products and solutions for the buildings of today and tomorrow.
The Centre is a hub of activity – a lively forum for those in the building and construction world who are as committed as we are to the sustainable built environment.
Why use the Centre?
Showcases innovative solutions with product libraries and information on Saint-Gobain solutions.
Meeting spaces to host larger and smaller groups for small conferences, lunches and receptions.
A flexible environment allowing visitors to learn more about Saint-Gobain in the UK and globally.
A catalyst for exchange and dialogue, bringing together experience, competence and influential thinkers to help drive evolution and innovation.
About Saint-Gobain
Saint-Gobain is the world leader in the construction materials market, creating and delivering innovative and high-performance solutions to enhance our habitat and daily life. Present in 66 countries, the company employs over 180,000 people worldwide, including over 17,000 in the UK & Ireland. It was founded in 1665 to deliver a world first – the production of glass on an industrial scale - and has continued to grow its business through adapting and innovating to provide new services, products and ways of working with customers.
Saint-Gobain in the UK and Ireland includes some of the best-known and respected companies in the construction sector including: British Gypsum, Jewson, Graham, Weber, Isover, Celotex, Glassolutions, Saint-Gobain PAM, and Ecophon. Together they offer a range of high performance energy-saving products and solutions to help create great living places and improve daily life.
60 Theatre 40 Cabaret

10 - 20 Boardroom

8 Boardroom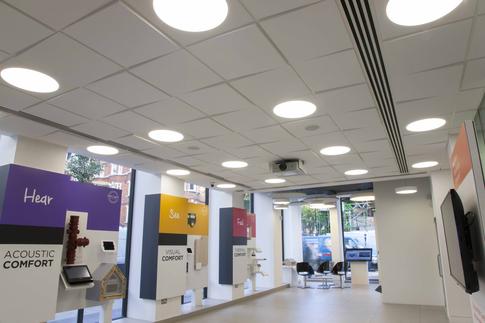 Representatives
Innovation Centre...