Company Profile
Strongroom Bar

Bringing together those in hospitality, tourism, leisure, bars and restaurants, food and drink

Urbano is a connected business community, dedicated to helping our members build sustainable futures.
About Strongroom Bar
Strongroom is an independent, alternative late-night venue, bar, restaurant and one half of the legendary recording studios. Both are housed in a former industrial warehouse in the heart of east London, which overlooks an ivy-covered courtyard. We first opened doors in 1997 with the intention of serving pints to the thirsty denizens of the studios; Shoreditch had only a handful of greasy spoons and pubs at the time, and our resident engineers and visiting recording artists were in need of a local.
Fast forward to the present. Shoreditch is an entirely different beast but we remain fiercely independent. Run by a small, close-knit team and surrounded by an inspiring group of creative businesses, we aim to keep the spirit of collaboration and community alive.
Rivington Street Bar (120 standing, 60 seated) – Can be used for
conferences, networking, film screenings and late-night work parties.


Upstairs Bar (75 standing, 40 seated) – Can be used for meetings,
workshops and late-night work parties.


Courtyard (200 standing, 100 seated) – Can be used for markets, meet-ups
and Summer parties.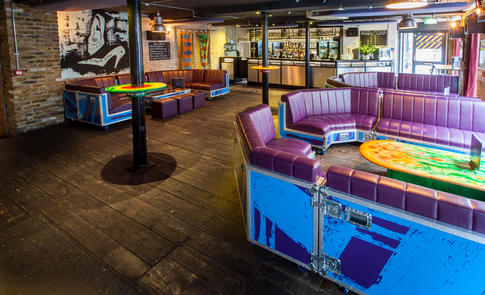 Representatives
Events Manager