Company Profile
Strongroom Bar and Kitchen
Bringing together those in hospitality, tourism, leisure, bars and restaurants, food and drink
About Strongroom Bar and Kitchen
Strongroom Bar is an Independent Venue and Recording Studio. In the
heart of Shoreditch, we're home to live music, craft beer and whisky. We
have a Seasonal menu and décor by the talented Jamie Reid, mainly known
for his works on the Sex Pistol's album covers.
For nearly 20 years, Strongroom has been serving the ever changing faces of Shoreditch in our unique Jamie Reid-designed space.
As part of the legendary Strongroom recording studios, we have always been a creative and cultural hub and one of the first late night venues to entertain Shoreditch.
Over the years, Shoreditch has matured and our operation has expanded and grown organically. Our kitchen has awesome burgers and fresh seasonal food. Our expansive beer list features local and international microbreweries. You can discover new and emerging artists at our live music nights. Our DJ nights are eclectic and focus on 'real' music. A recent extension offers light and airy surrounds for breakfast meetings, coffee mornings and private hire.
And did we mention Strongroom has the largest outdoor drinking and dining area in the neighbourhood?
Rivington Street Bar (120 standing, 60 seated) – Can be used for
conferences, networking, film screenings and late-night work parties.


Upstairs Bar (75 standing, 40 seated) – Can be used for meetings,
workshops and late-night work parties.


Courtyard (200 standing, 100 seated) – Can be used for markets, meet-ups
and Summer parties.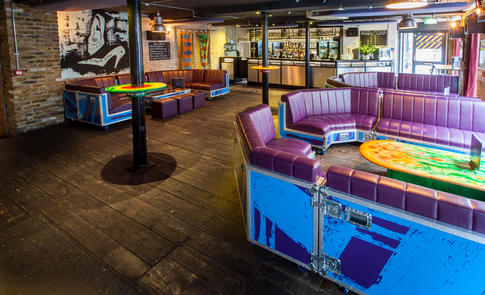 Representatives
Events Manager