Company Profile
68 & Boston

Bringing together those in hospitality, tourism, leisure, bars and restaurants, food and drink

A networking community for those TV, film, animation, advertising, publishing and other media.
About 68 & Boston
68 & Boston is split-level wine and cocktail bar in Soho with refined wood panelling, banquettes and designer lighting. The venue is located beside Soho Square in the heart of theatre land and the West End on Greek Street.
'68' is our wine bar on the ground floor. Our wine bar features a list of 25 quality wines at £20 per bottle, some fabulous bottles from £30 and a Private Cellar Collection of fine wines. We are proud to serve 45 different wines by the glass.
'Boston' is our cocktail lounge on the first floor. It has become one of Soho's most renowned hidden gems. This elegant lounge offers an intimate, speakeasy-style late night bar, with a great selection of classic and original cocktails. The space is finished with original 1920's wood paneling and Art Decor lighting, to create a sophisticated and relaxed environment.
Private Hire and Events at 68 and Boston
Whether you are looking to book in for two or two hundred and sixty, we've got the perfect space for you. Both 68 and Boston have private hire areas available, along with the possibility of exclusive hire of our whole venue.
Parisian Quarter: A semi-private area with a capacity of up to 25 guests, this beautiful space sits within 68, our Wine Bar and boasts intimate lighting with a mixture of seated and standing options.
The Snug: This secluded area within our Cocktail bar has the capacity of up to 25 guests, with chandeliers, glass decanters, low seating and of course table service make this an ideal room to escape into.
The Vaults: An intimate set of spaces in the cellar, tucked away from 68. Each Vault takes up to 15-20 guests, with both available for hire of up to 50.
The Writer's Room: This semi-private area within our Cocktail bar has the capacity of up to 30, boasting a fireplace and a wall mural inspired by the S.S. Queen Mary, along with easy access to the Writer's bar.
Exclusive Hire
We offer exclusive hire of 'Boston' for up to 100 guests and '68' for up to 160 guests.
Click here to view our gorgeous event spaces
All private hires are based on minimum spends, with no room hire costs or added fees.
Venue capacity: Writers Room: 30 seated | Vaults: 50 seated | Snug: 25
Exclusive Hire of 68: Up to 160
Exclusive Hire of Boston: Up to 100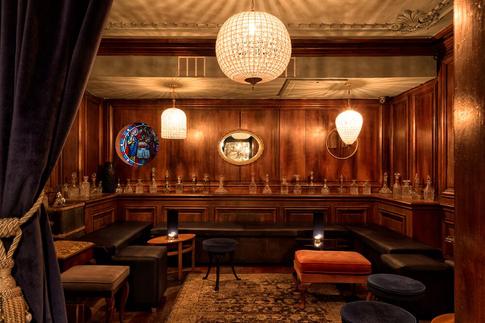 Representatives
Sales Manager

Head of Group Sal...

Sales & Marke...