Company Profile
Flight Club Shoreditch

Bringing together those in hospitality, tourism, leisure, bars and restaurants, food and drink
About Flight Club Shoreditch
Flight Club is the birthplace of Social Darts. It's taken the traditional game of darts and supercharged it – using unique, patented technology to create a social experience like no other for groups of 6 to 390. In just under two years, more than 600,000 people have tried their hand, throwing almost 37 million darts.
The venue combines the heritage of darts; the pub and fairground, with our very own twist and serves up delicious signature slushy cocktails, sharing food and Flight Bite canapés. Offering a completely unique experience for our guests, Flight Club Shoreditch has won Best All In One Venue in the Design My Night Awards 2016/17 and Most Loved Bar in Shoreditch and Hoxton in the Time Out Love London Awards.
What is Social Darts?
We've reinvented darts for the twenty first century, with fast-paced multiplayer games, ground breaking dart-tracking technology, instant scoring and a slick and intuitive user interface. And with multiple throw lines to level the playing field, even a complete beginner can win on the day. Try your hand – you'll be hooked in no time!
The 'OCHE' – Your Playing Area
Social Darts is played in an area called an 'oche' (it rhymes with hockey). That's the space from the throw line to the dartboard, as well as your own seating area. Once you're there, you'll find a range of features specially crafted to make your time at Flight Club awesome including:
• Each oche can hold up to 20 people
• We can deliver food and drink direct to your oche
• An intuitive tablet allows you to add players, select games and more
Whether you're hosting a team social, client party, product showcase or a team building event, guests can join exciting, multi-player tournaments, competing against each other across multiple spaces.
Looking for a day out with a difference? Flight Club has recently launched The Flight Club Teambuilder. Available for groups of 40-60, it combines pizza making, cocktail shaking, a Social Darts tournament, as well as a platform to discuss business objectives.
** EVENT HIRE at The Flight Club Shoreditch **
Event spaces for 40 - 400 guests.
The Furlong: 40-70 Capacity / Number of Oches: 3
As the liveliest of our spaces this is a gem. With three games playing side-by-side you can see all of the action at once.
The Stables: 70-150 Capacity / Number of Oches: 4
This semi-private events space features 4 oches and a central seating area, which makes it perfect for parties, product launches and work socials.
The Basement: 150-250 Capacity / Number of Oches: 7
With multiple oches, seating areas and access to a bar, basement hire will provide the
perfect space for larger group.
Full Venue Hire: 250 - 400 Capacity / Number of Oches: 9-12
For a truly unique event hire Flight Club exclusively and make the most of our 2 floors, multiple oches and innovative game play technology in our award winning venues.
Ask about our tournaments and your very own Gamesmaster!
For more information on how we can help you plan a winning event, get in touch at clientrelations@flightclubdarts.com or call 0203 019 0850.
_________________________________________________________________________________
"A highly innovative twist on a traditional space, with evident attention to detail on tech, lighting, catering and customer experience. There is strong evidence of a highly positive reaction from the market, and attention to detail in staff training and presentation."
JUDGING PANELIST, LONDON VENUE AWARDS
'Most Loved Bar Shoreditch & Hoxton'
2016 Time Out Love London Awards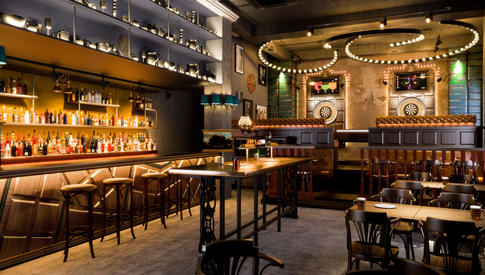 Representatives
Client Relationsh...