Company Profile
Churchill War Rooms
» Venues
» Museums

Bringing together those in hospitality, tourism, leisure, bars and restaurants, food and drink
About Churchill War Rooms
History was made in Churchill War Rooms - an underground bunker that allowed Britain's leaders to plot the allied route to victory during the Second World War.
Walk the labyrinth of rooms and corridors that stretch below Westminster that sheltered Winston Churchill and his war cabinet from the German bombing raids, and explore the Churchill museum to learn the story of his life and legacy.
Venue Hire
Give your guests the experience of a lifetime at Churchill War Rooms. Each room has been preserved and restored to look just as it did during the Second World War. Walk the same corridors as Churchill, peer into the room where his War Cabinet made their momentous decisions, and marvel at the complexity of the abandoned Map Rooms, frozen in time since 1945.
This once-secret underground wartime headquarters also offers excellent modern meeting and dining facilities.
It is an inspirational venue for team building days, dinners, receptions, press launches and seminars, featuring state-of- the-art technology and support services.
~
** SPRING & SUMMER DAY DELEGATE PACKAGE OFFER 2019 **
Step into summer and take advantage of our bespoke day delegate package from £55 ex VAT.
Our promotional day delegate package includes:- exclusive room hire, tea & coffee with smoothies and mini pastries on arrival, freshly prepared grazing bites lunch, tea & coffee with afternoon treat, AV facilities: screen, flipchart, projector and the opportunity to explore the museum with a complimentary audio guide.
The above is subject to availability from April to 31 August 2019. Minimum delegate numbers will apply. To book contact us on 0207 766 0127 or 0207 766 0134.
~
** CHRISTMAS 2019 **
EARLY BIRD CHRISTMAS OFFER - 10% off if booked by the end of June 2019
Inspired by the 1940s, we have created a range of fabulous packages for your winter event.
Dance the night away and celebrate the festive season in this historic venue, ensuring a Christmas party your colleagues will never forget. Indulge in a sumptuous festive dinner and drinks menu and explore the underground rooms, this party season!
Download our Christmas brochure for details on the packages on offer.
~
Event Spaces available for 20 – 250 guests
Harmsworth: 90 seated dinner or 120 standing - features a 1940s electric generator wall packed with switches and dials, creating a stunning backdrop for your event:
HCA Auditorium: 120 seated 175 standing - offers all the conveniences of a modern meeting room, located under 12 feet of concrete and steel
Switch Room: 20 to 40 guests - perfect for smaller, intimate receptions or a dinner – a popular venue for breakfast events
Learning Suite: 14 to 40 guests - work-focused space, perfect for business meetings or workshops. Including the main room and three additional breakout areas, the suite offers full smartboard and whiteboard table use.
Private Tours
A private tour of Churchill War Rooms offers you and your guests an unparalleled opportunity to step back in history. Imperial War Museums' expert guides provide unique, hour-long tours for up to 10 people, which can take you exclusively behind the scenes into the Map Room and the Cabinet Room.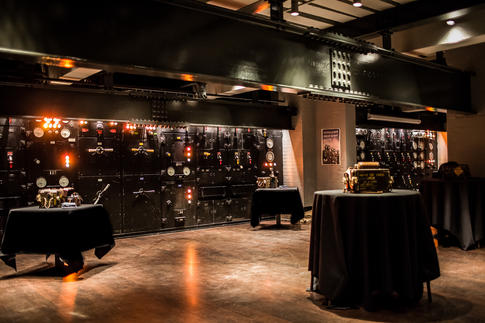 Representatives
Sales Manager