Company Profile
Emirates Aviation Experience

Bringing together those in hospitality, tourism, leisure, bars and restaurants, food and drink

Urbano is a connected business community, dedicated to helping our members build sustainable futures.
About Emirates Aviation Experience
The Emirates Aviation Experience is a captivating attraction, where visitors can take on an inspirational journey behind-the-scenes and into the heart of 21st Century commercial air travel. The venue features an interactive exhibition as well as four state-of-the-art flight simulators, where participants can fly their aircraft and practice their take-off and landing skills along with our highly trained instructors. Our "fleet" includes two Airbus A380s and two Boeing 777s fixed based flight simulators. All four simulators are exact replicas of the real cockpits and participants can fly to ten airport destinations including London, Dubai, Hong Kong and more, selecting different times in the day and different weather conditions.
Housing a real Rolls Royce Trent-900 engine, a real-size Airbus A380 nosecone, interactive touch screens and a surround cinema that takes you through Dubai's cutting-edge baggage handling system, our Exhibition offers an immersive and fun experience.
The Emirates Aviation Experience also has a Cafe serving drinks and light meals, a Shop with Emirates products and travel gifts as well as an outdoor seating area with beautiful views of the Emirates Air-Line cable cars and the River Thames.
We are located on the Greenwich peninsula; a hub of activity and one of London's new exciting attraction areas, only a 5-minutes' walk from the North Greenwich tube station and the O2.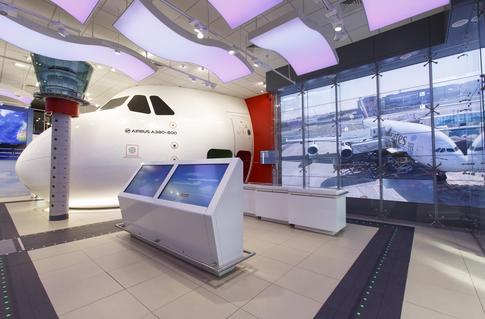 Representatives
Deputy Manager

Education Officer