Company Profile
RB Health and Safety Solutions Ltd

Bringing together those in hospitality, tourism, leisure, bars and restaurants, food and drink
About RB Health and Safety Solutions Ltd
RB Health and Safety Solutions is a Health and Safety Consultancy and Training company delivering bespoke solutions in Central London and beyond.
Consultancy
We offer a range of consultancy from a bespoke H&S Support package managing all aspects of your organisation's H&S needs to a one-off Fire Risk Assessment or review of your policy and Risk Assessments.
Our experienced team of consultants have extensive experience in a wide range of fields and backgrounds, so you can rest assured that whatever you need, it will be up to date, and relevant to you and your business.
Registered with the Occupational Safety and Health Consultants Register (OSHCR) you can be assured that you will receive the services of a competent consultant.
Training
Health and safety courses are an important part of any Health and Safety policy. Contracting RB Health and Safety Solutions Ltd as your health and safety training provider will go further than just ensuring that you have the safety training you need to meet your legal obligations. We will work with you to tailor the content to be specific to your business.
Courses: First Aid, Fire Safety, For Theatres, Health & Safety and IOSH
As well as in-house courses, RB Health and Safety also run Paediatric First Aid and the IOSH Managing and Working Safely for Theatre and Production courses as open events, which you can book online.
Click here to view current open courses
We are rated as outstanding by IOSH.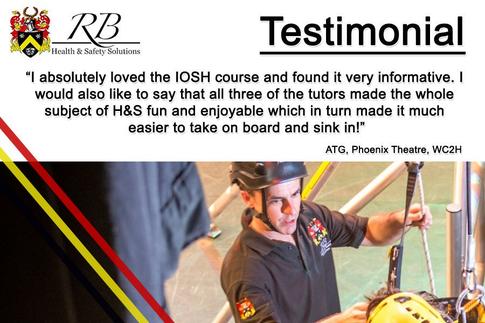 Representatives