Company Profile
Dishoom Kings Cross

Bringing together those in hospitality, tourism, leisure, bars and restaurants, food and drink
About Dishoom Kings Cross
Dishoom pays loving homage to Bombay cafés serving bountiful breakfasts, leisurely lunches and glorious evening feasts.
BEGIN YOUR DAY AT DISHOOM with breakfast, which might be a Bacon Naan Roll, a Kejriwal or a Big Bombay.
Then lunch lightly on Roomali Rolls and Salad Plates, or linger with a feast.
Refresh your afternoon with a drop of Chai and a small plate or two. Dine early or dine late.
Or just join us for a tipple – perhaps an East India Gimlet, a Viceroy's Old-fashioned, or our very good Dishoom IPA?
Click here to see how we celebrate important events
Festive Celebrations
Groups of four or more are welcome to dine from our year-round group feast menu or special Christmas feast menu. Our festive dishes are honestly some of the best food and drink we ever do.
Taking centre stage at the Dishoom Christmas table will be the Turkey Raan, a whole turkey leg, prepared in the traditional Indian raan style, cooked slowly over a day until meltingly tender, served with a spicy cranberry chutney. Enjoy as part of the fulsome Christmas feast menu – receive thaals (large communal plates) laden with plentiful portions of Dishoom's best-loved dishes, including Small Plates, Grills, Biryanis, House Black Daal and seasonal specials finished with a veritable array of puddings. Sip Mulled Brambles, Chai Eggnog, Old-Fashioned's and other delectable tipples (whether tee-total or not.)
__________________________________________________________________________________
Become an Urbano Host Venue Partner to receive promotional benefits through our mailers sent to 55,000 subscribers and exclusive access to our networking events. Visit Urbano Venue Host Partner Benefits to find out more.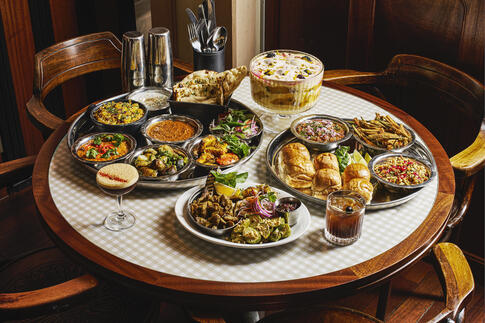 Representatives
Chatter-walli