Urbano Circles

Urbano Circles are designed to bring together Urbano Member Companies to share new ideas and best practice, collaborate and co-operate, but primarily develop new business opportunities.
What is an Urbano Circle?
An Urbano Circle is essentially a boardroom of different companies which together create the perfect company. It allows member businesses to win contracts denied to them because they lack resources or specialisms in-house, or do not have the financial status and scale to compete against larger organisations.
Who creates an Urbano Circle?
To create or be part of an Urbano Circle you must be an owner or have a senior-level position at an Urbano Company Member. We then ask them to describe each company who they would want to sit round their perfect work-winning board, including the minimum status of Circle members (Founder-Owner/MD/Director, turnover etc).
Who can join an Urbano Circle?
Once a commitment to form a Circle and the membership of that Circle is agreed, we will then work with the founder of each Circle to identify and then invite suitable qualifying candidates to meet the Founder of the Circle. They will be asked to present on what skills, connections and potential new business they can bring to the Circle and if both sides agree, they will be invited to join.
Invitees can be Urbano Company Members and others, but once they agree to join any Urbano Circle, they must join Urbano as Company Members before attending their first Circle meeting.
Where and how often will an Urbano Circle meet?
We believe to be effective, each Circle will meet at least once a month in person, at a day, time and location to be agreed once the Circle is created. Urbano can help source suitable venues and get quotes for spaces, restaurants, catering etc.
What is the minimum number for a Circle?
Although we will leave each Circle Founder to set precise criteria such as numbers and their preferred Circle Member descriptions, we believe the optimum number of members will be between 4 and 8.
What will Urbano bring to each Circle?
Besides helping set up the Circle with the Founder and introducing potential participants, we will also create a private online Circle within the Urbano website. We will use this to help manage communications between the Circle's members and to offer our own assistance with suitable tenders and other new business opportunities.
In addition, we will also help find specialists from across the network, who, whilst they may not be a primary member of that Circle, they can offer expertise in areas like law, raising finance, branding and marketing, tender writing, pitching and other new business skills, as requested.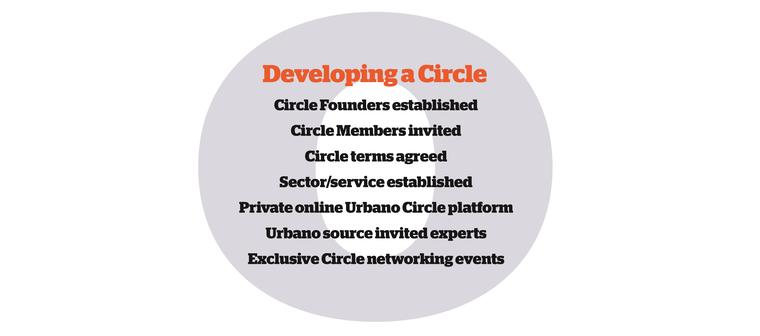 What is the minimum commitment to join a Circle?
Membership of a Circle and commitment for each Circle is a minimum of 12 months. It will take time for the Circle to get used to working together and to reveal the new business value for each member. Terms are set by the Founder.
Can I join more than one Circle?
As every Circle will have new business focus, we feel that ordinarily this would some sort of exclusivity in terms of membership. However, there may be exceptions where there is no contradiction in activities, examples potentially including strict sector-focused Circles such as Retail or Technology working with designers.
How much is membership of an Urbano Circle?
Urbano will charge each member including the Founder a monthly fee of £49 + VAT, payable by Direct Debit. Commitment to Membership of a Circle and payment is a year. If a Circle ceases to operate, we will permit you to cancel your Direct Debit.
What Circles will be created that I can join?
We are starting initial discussions with Urbano Members in the following Communities/Sectors. When there is an opportunity we will notify our company members. If places remain open after the initial call, we will open out the opportunity to respond to current non-members, but they will have to take out an Urbano Company Membership if accepted into a member's Circle.
The following are illustrative examples of potential Urbano Circles:
WORKPLACE Architect, AV, Construction, Design, Interiors, HR, Benefits...

IT Cloud, Hosting, Cyber- Security, Data Protection, IoT, M2M...

RESIDENTIAL Architect, Acoustics, Smart Homes, H&S, Interiors, Landscaping, Valuations...

ADVERTISING Animation, FX, Creative, Copy, Music, Sound Studio, Post-Production...

HOTELS Architect, Interiors, Investment, Licensing, Systems, Property Agent...

RETAIL Brand, Trademark & IP, Fit-Out, Storage, Product Design, Transport...

CULTURE Brand, Leadership & Management Training, Employment Law, Event Management...
HERITAGE Brand, Placemaking, Wayfinding, Stakeholder Engagement, Archaeology, Exhibits, Street Furniture, Event Management...
__________________________________________________________________________________________________________________
NEXT STEPS
If you wish to meet or discuss forming your own Urbano Circle with Mark Herring, MD & Founder of Urbano then get in touch ensuring that you provide the following information:
A short summary about your company, target sectors, aims and what your ideal Circle would look like in terms of other companies; and
Whether you are interested in becoming a Circle Founder or just joining a Circle.
Mark will review and arrange a call to discuss the finer details.