Urbano Network Membership
Urbano Network is an independent membership networking organisation and community.
Any size and sector of company can apply to join and you join the whole network, not just one of our communities (such as Build).

A note on costs of membership (see below for the table of options, benefits and fees).
Non-member companies can book a maximum of TWO places at our events for their representatives - or one person from any firm can book two places at two events.
The two-events as non-members maximum also applies to those who were previously members of our community.
Non-members rates are included on all events unless strictly members only.
The exemption is for sponsored events which will show these are exempt.
If your company requires information on membership, forward the download below.
For those in financial or legal* sectors, we only allow company or corporate membership (paid monthly or annually)
If your company doesn't join networking or business organisations, you can apply to join as an individual and pay through monthly DD with our permission. If they have allowed you to book events under expenses, you can claim in a similar way.

* Please contact the office before setting up a DD.
For more information on Urbano download the Urbano Membership & Supporter Pack
SUMMER MEMBERSHIP OFFER, 2022
Any company joining as a new COMPANY MEMBER of Urbano in July & August and paying the annual fee on invoice, can select TWO FREE PLACES at any of our summer networking lunches for its representatives (two at same event or one place at two events). The list of events in July & August is available here: Urbano Summer Events Calendar

Benefits start on payment being received. Benefits outlined below.

URBANO MEMBERSHIP OPTIONS & FEES
Urbano has a membership option to suit every business, regardless of status, size and budget.
Micro Membership (1-5 employees): £29.95 per month
Company Membership (6-249 employees): £39 per month or £395 paid annually
Corporate Membership (250+ employees): £49 per month or £495 paid annually
Refer to the table below for benefits by membership type.
Monthly payments are set up via Direct debit or repeat card payments. Membership starts on set-up and is for a minimum of 12 months once we have accepted your application. You can also use a payment card by phoning the office (by appointment).
CLICK HERE TO SET UP YOUR DIRECT DEBIT MANDATE

FOR ANNUAL COMPANY & CORPORATE MEMBERSHIPS ONLY
Email the office with your request and we will issue an invoice.
You can choose to pay via a one-click card payment (please request link on application), via BACS or you can also set up an annual direct debit. Membership is activated on receipt of payment.
_____________________________________________________________________________________________________________________________________________
URBANO MEMBERSHIP OPTIONS & BENEFITS: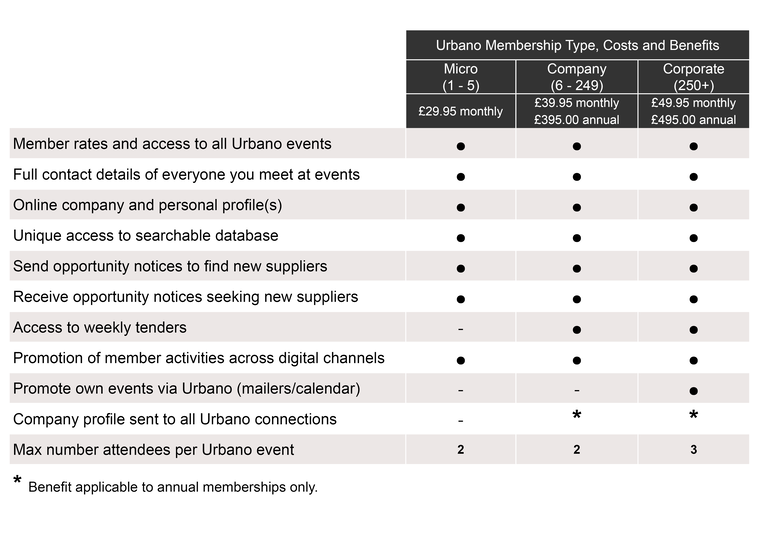 Membership Notes:
All fees above are excluding VAT.
Memberships are for a minimum initial 12-month term.
Annual memberships are invoiced and activated on receipt of payment.
Company memberships - payable monthly or annually - include tenders.
Corporate Members can promote their own events through our weekly mailers with 55,000 subscribers. Member Events Calendar
We reserve the right to refuse attendance at our events and membership application.