Urbano Network London Networking Membership
Urbano Network is a membership organisation and only on joining does the full power of Urbano only become apparent, unlocking the full networking toolkit we offer, connecting you to hundreds of Urbano Member companies, their representatives, and associates.

We allow companies to send representatives to a MAXIMUM of TWO events as non-members and at appropriate non-member rates. This is to allow you to gauge the quality of our events, the range, diversity and friendliness of our members and the potential value of becoming part of Urbano to your business. The same rule applies to INDIVIDUALS who join other companies. Please note: this rule does not apply to booking our Urbano Engage Speaker Panel Events.

If you have questions you wish to ask before you join, you can visit About Urbano page and our Urbano FAQs page where most questions are answered. If you cannot find an answer to your specifc query on the website, please contact the office (see link below).
For more information on the network and our communities, our previous speakers, events, experience and approach, download the Urbano Membership & Supporter Pack
URBANO MEMBERSHIP OPTIONS & FEES
Urbano has a membership option to suit every business, regardless of status, size and budget. For a summary of the differences, please see the table below.
Monthly Individual Membership: £25 + VAT per month (Direct Debit)
Monthly Team Membership: £30 + VAT per month (Direct Debit)
Monthly Company Membership: £39 + VAT per month (Direct Debit)
Annual Company Membership (£395 + VAT) (Direct Debit OR BACs)
FOR ALL DIRECT DEBITS (the quickest and easiest way to join, especially if you want to start requesting tenders, or attend an upcoming event as member, or get the contact details of those you have peviously met at Urbano events), click the link below and set up online. We will receive the DD notice and set up membership within two hours and send a receipt. An invoice for the year's membership will be sent once the first payment is received.

CLICK HERE TO SET UP YOUR DIRECT DEBIT MANDATE

FOR ANNUAL COMPANY MEMBERSHIPS ONLY
Email the office wth your request and we will send over an invoice on request of membership. Once paid, your membership will be set up.
_________________________________________________________________
URBANO MEMBERSHIP OPTIONS & BENEFITS: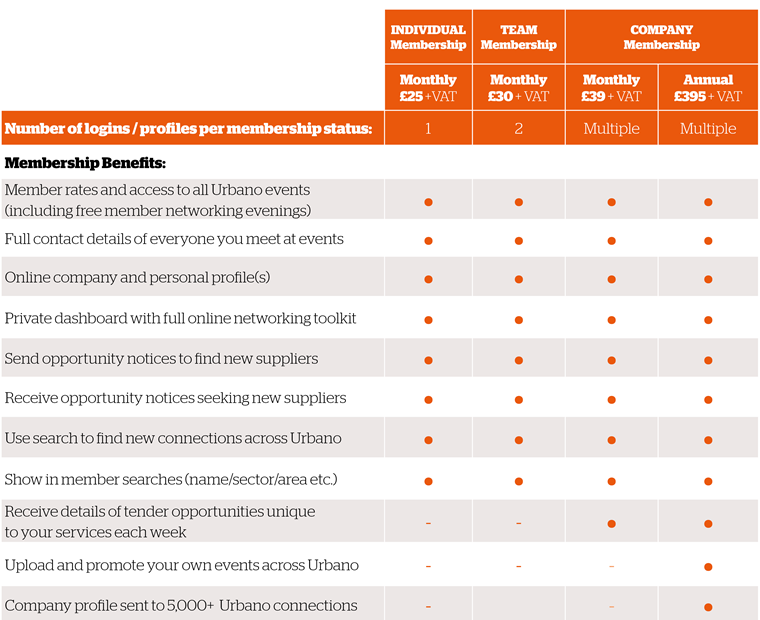 Membership Notes:
All membership prices shown are excluding VAT.
All monthly direct debit memberships are for a minimum initial 12 month term.
All memberships can also be paid on an annual basis by BACS or card on reciept of invoice.
For companies linked to franchise operations, memberships are for the named person's franchise company not the franchising organisation
Organisations such as universities and others which work on funded projects and wish Urbano to help on deliverables, contact Urbano to ask about Partnerships.
Annual Members can list up one event per month on our Member Events Calendar and we will add these links to our monthly events mailers sent to 65,000 subscribers plus our weekly events notice sent to approximately 5,000 Members and Associates profiled on our website.
We reserve the right to refuse any membership and consider each application on its merits.