Urbano Network London Networking Membership
Urbano is a membership organisation and only on joining does the full power of Urbano only become apparent, unlocking the full networking toolkit we offer, connecting you to over 5,000 + Urbano Members & Associates.

We allow companies to send representatives to a maximum of TWO events as non-members and at appropriate non-member rates. This is to allow you to guage the quality of our events, our membership and the potential value of becoming part of Urbano to your business.
CLICK HERE TO APPLY OR TO SET UP YOUR DIRECT DEBIT MANDATE
_____________________________________________________________________________________________________________
URBANO MEMBERSHIP OPTIONS & BENEFITS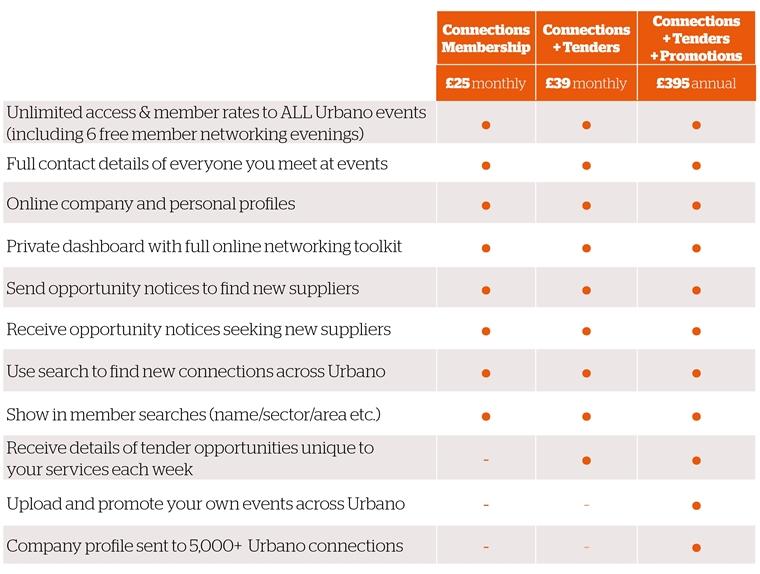 CLICK HERE TO APPLY OR TO SET UP YOUR DIRECT DEBIT MANDATE
Membership Notes:
All monthly direct debit memberships are for a minimum 12 month term.
All memberships can also be paid on an annual basis by BACS or card on reciept of invoice. Email caroline@urbanonetwork.co.uk
For companies linked to franchise operations, memberships are for the individual franchisee's companies not the franchising organisation
Membership and terms above are for companies.
Organisations such as universities and others which work on funded projects and wish Urbano to help on deliverables, please email Caroline.
We reserve the right to refuse any membership.
For membership queries email: caroline@urbanonetwork.co.uk