Urbano Communities
Urbano Business
Urbano Network has been connecting companies of all sizes and sectors from PLCs to SMEs, in London, the UK and beyond, for ten years.

Urbano's calendar is a diverse mix, from speaker and panel events to breakfasts, lunches and evenings, each designed to bring together a range of companies from our different Communities: Build, Create-Media, Finance, People, Host, Tech, and UWACTE (Urbano Women In Architecture, Construction, Technology and Engineering).

For more on the approach and history of Urbano, how we work and who we work with, who we have had as speakers, and our commitment to sustainability, please click here: Urbano Network

Urbano believes that new business opportunities come attached to people and these are revealed through developing relationships between humans representing their companies. Every event we organise is a catalyst to a conversation and chance to meet, share knowledge and ideas, and develop valuable new relationships.

Find out our upcoming events here: Urbano Events

Add yourself to the events mailer list here: Urbano Events Mailer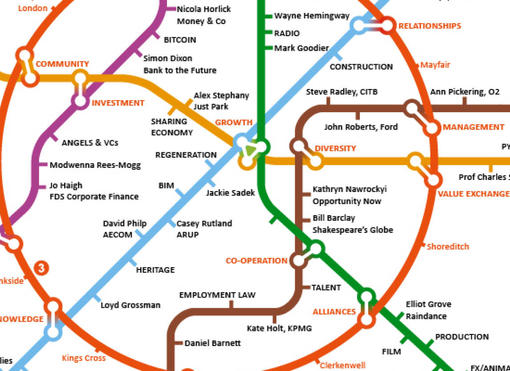 Urbano Network was formed in 2011 and in 2021 celebrates its tenth anniversary. It's management team, however, have a proud track record in creating and running successful business communities stretching back to 2002, when one of Urbano's co-founders, Mark Herring, was one of the founders of Shoreditch Business Network.
With his background in creative communications, branding and marketing, he blended these elements with a belief that all business opportunities depend on relationships and that these critical relationships start with a conversation. So, in his past 15 years at the forefront of business community building and during which time he and his team have organised over 1,000 events, they have all been with one main purpose in mind: to be catalysts to conversations.
The Urbano calendar and its various business communities - Build, Create-Media, Finance, Host, People, Tech & UWACTE (Urbano Women in Architecture, Construction, Technology & Engineering) – all exist to facilitate and encourage new contacts and connections, but not just with those in the same sectors, but to hear from others with different approaches, backgrounds, knowledge, skills and status. We are proud to say you will never meet the same group of people at any Urbano event. Our calendar is as diverse as the mix of companies you will find there, from speaker events on key business topics to informal breakfasts, lunches and evenings.
Beyond making introductions between companies – and often these take place away from events - our other focus is to help our members create sustainable businesses.
In business, sustainability is seen in its tight environmental definition as finding ways to avoid depleting natural resources and harming the planet, but it is also economic and social elements to it.
We first organised a green construction event way back in 2005 and since then we have looked to not only invite those with experience and knowledge in sustainability in all its forms, but also proudly champion diversity – 80% of our speakers have always been women, - new technology, such as BIM (2011), Bitcoin (2021), Blockchain (2018), especially as these offer opportunities to younger, smaller specialist service companies, and opening up tenders and supply chains to SMEs.

Any company can send representatives to any Urbano event as non-members twice. To enjoy future events, and the other services we offer, a company has to join the community we have created. Not every company likes to be challenged, many only go networking to make a sale and judge us against that. That is their right, but they are wrong if they think networking is only that. If you want to turn up, pitch across a table and judge the event a success only if you leave with a contract, then sorry, but Urbano is not and never has been the network for you.
When the Paris Agreement was signed in 2016, the world of business changed. We now had the science to support the irrefutable proof of climate change and the damage human activities were doing to our planet and the other species with which we share it. It also gave us a target of 1.5c increase in global average temperatures and the pathways we had to follow in order to achieve that.
Urbano has taken its own steps to reduce our own emissions around our activities and we help and encourage – and champion – that that follow similar commitments. We want to become a Net Zero Carbon company – which is just as hard for a micro-business as for PLC - as there are costs involved. But the cost of not doing so is too expensive to imagine.
We will match this commitment by keeping our events and membership affordable as we also align ourselves and our services as an organisation to connect and help enterprises and entrepreneurs. Caroline Brock, co-director of Urbano, is a member of the Social Value UK, and we will start the journey to be a B Corps Member over the coming months.
If you share these values and believe in the same things we do; that you can do business without harming our planet, that you can be in business for the right reasons and create opportunities for yourselves and your workforce by doing the right thing, that sharing knowledge and learning is an life-long, never ending process, and that no-one or the company they work for too big that they can't fail because they failed to adapt, and that fundamentally networking is about connecting and engaging with others, then please book an event and see if Urbano is the community for your company to be a part of.
Join community
Next Events
Community Members