Urbano Communities
Urbano Business
All Urbano networking events are open to any business person, regardless of sector, area or status. Each month Urbano holds networking seminars under the banner of one or more 'strands': Business, People, Finance, Create, Build & Host.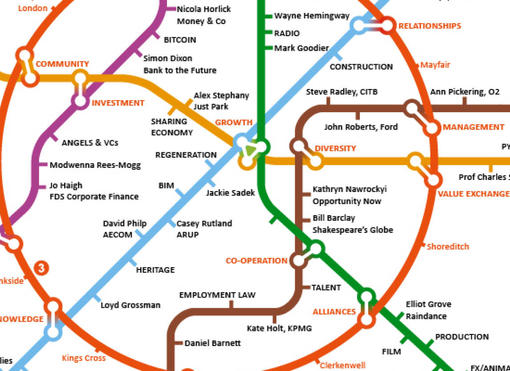 To view full details of our speaker list and themes download our Membership Pack
Urbano is one network and membership gives you the right to attend any event. Non-members can also attend any event to a maximum of TWO URBANO PER COMPANY. Urbano believes that all businesses can learn from one another and this diversity leads to sharing of information and transfers of best practice, opportunities to collaborate, form associations and increased new business potential.

If you haven't been to an event, book one here: London Networking Events.
(And don't leave the website until you have added yourself to the event invites database!)
Urbano Business
Every succesful business is built on three important pillars: business, finance, and people. Yet ask any business owner or company director what it is they do and they will say 'architect', 'lawyer', 'bar owner', 'recruitment agent', never 'entrepreneur' or 'business person'.
Urbano wants to change that mindset.
Urbano's networking seminars (usually breakfasts) fall under the umbrella of one or more of the three themes - business, people, finance, and sector-specific groups - Media, Build & Host.
For instance, the MD of a successful food company spoke to an Urbano Business AND Host audience, and covered areas like investment, branding, production, market research and response, exporting to new markets, employment issues etc.
Urbano nusiness seminars take the conference format and strip away the time-wasting, cost and add energy, focus and networking. Each event lasts around two hours, and features guest speakers who are leaders or opinion-formers in their sector or area of speciality. The speaker and the audience they attract is designed to act as a catalyst to collaboration, opportunity and new business between all the attendees.
Attendees are always a diverse mix of directors, partners, business owners, managers and other senior representatives from a range of sectors and specialities. Attendees at all Urbano events tend to be largersand more established compnaies that other networks, though we never discriminate and encourage all sizes of business to meet and build connections.
Upcoming events:

Previous Urbano speakers have included:
Peter Barron - Google's Director of External Affairs
Ella Bennett - HR Director, Fujitsu UK & Ireland
Pauline Bickerton - Entrepreneur in Residence at Cass Business School
Lucinda Bruce-Gardyne - Founder & Director of Genius Foods
Spencer Dale - Chief Economist to the Bank of England
Simon Dixon - CEO, Bank To The Future & Bitcoin specialist
Charlie Duff - Global Social Media Relations Manager, Ernst & Young,
Jonathan Fisher, Specialist tax QC
Nicola Horlick - 'Superwoman', CEO of Derby Street Films
Richard Gillies - Marks & Spencer's Director of Plan A & Sustainable Business
Daisy Goodwin - MD, Silver River Productions
Jo Haigh - Dealmaker and responsible for over 300 multi-million deals
Ben Heald - SiftMedia CEO. Founder of HR Zone, Business Zone and Accounting Web
Wayne Hemingway, Hemingway Design Studio
Kate Holt - HR Director at KPMG UK
Kevin McCloud - Grand Designs/Hab Housing
Craig McCoy - HR Director, BUPA
Lara Morgan - Entrepreneur & previous CEO of Pacific Health (sold for £20M)
Modwenna Rees-Mogg - Editor of Angel News
John Roberts - HR Director, Ford UK
Sarwant Singh, Global Business Trends Forecaster, Frost & Sullivan
Graham Snowdon - Editor, The Guardian's Work Supplement
Jo Taylor - Head of Talent Management, TalkTalk
Darren Westlake - CEO, CrowdCube
John Whiting, Office of Tax Simplification
William Webb - President of the IET
Duncan Hine - Cybersecurity advisor to the government
Bill Barclay, Director of Music at the Shakespeare'es Globe
Will Hardie, architect and television presenter
Gwyn Roberts, Communities Lead at BRE
Edward Lucas, Senior Editor the Economist
All Urbano events are open to any business person, regardless of sector, area or status of the business.
The speakers usually fall under one or more of Urbano's Network Groups, which are online networking communities for members who have company or personal interest in one or more of the groups's focuses. For instance, Wayne Hemingway was a featured Build event, but he also covered Business & Media areas.
The other Networking Groups pages will tell you more about past and future speakers for their specific interest groups, but please note: Urbano events are open to all and it is this diversity that makes each event unique and effective.

Join community
Next Events
Community Members