Become an Urbano Venue Host Partner in 2020

Urbano Network is London's leading independent networking community, connecting hundreds of companies across our different business communities: Build/ Finance/ Host/ Media/ People/ Tech, UWACTE (Urbano Women in Architecture, Construction, Technology & Engineering) & Women In Business. You can view a list of the kind of companies we are proud to call members and assocites of Urbo, plus our upcoming and past events, plus some of our illustrious speakers here: Urbano Business Community

Created in 2011 by Mark Herring (who ran his first network in Shoreditch way back in 2002!) and Caroline Brock, Urbano focuses on facilitating connections and opportunities for its members, both online and through its calendar of 50 weekly events. These are speaker breakfasts, networking breakfasts, lunches and evening events.
Each event is designed to introduce different companies and their senior representatives in one or more of our communities to each other - and to open the doors and bring in a relevant, quality audience to that particular Host Partner Venue.

In return for hosting, we:
promote your venue to our database of 75,000 subscribers at least three times.
feature your venue in our Venue Collection Handbook 2020 which we take to every Urbano event and a copy given to every Urbano event attendee throughout the year: over 3,000 people in total.
but perhaps most importanly, hosting gives you and your team an annual membership of Urbano which in turn gives them the opportunity to connect face-to-face with hundreds of companies at our other events, including our free members' evenings, and access to tools like Search where you can find and introduce yourself to businesses local to your venue.
In 2020, we will host 8 networking breakfasts, 14 evenings, and 14 lunches. A total of 36 venues. All other events - usually our speaker breakfasts - are hosted by members who have their own event spaces, such as large law firms, architects and engineers.

Once we have our roster of hosts matched to our events, Urbano once again becomes a closed network to non-host/non-member venues. This allows us to focus on developing valuable connections for our member venues and their teams.

The Venue Collection will officially launch in February 2020 and we hope you will be part of it. Please read on and if you feel your venue would like to be a part of Urbano in 2020, please contact me via the details below and we can discuss matching your venue to our audiences!

Caroline Brock
Director - Memberships, Events & Partnerships
** URBANO HOST VENUE PARTNER TESTIMONIAL **
"We hosted an Urbano networking lunch in Soho recently. As someone newly arrived at our venue, I didn't quite know what to expect. I had no expectations as I didn't know Urbano, its team or the types of companies who are members or who come to events. I must say, I was more than pleasantly surprised.
It was a really diverse mix of companies, from media agencies to large tech companies, lawyers and financial advisors, companies in construction and property tech (drones!), recruiters and PRs – and even a novelist!
What struck me was how friendly and open everyone was. Mark and Julia created a great atmosphere, and everyone was willing to talk to me and were genuinely interested in our venue. I don't know if it will lead to bookings but without meeting and talking to people, we can never start to develop those key relationships that do lead to new business opportunities. I know I had over 20 great meetings in the space of two hours – and I didn't have to leave my venue. No amount of cold calling would lead to that in two hours.
I can honestly say it is the best networking event I have ever attended – except the ones I organise myself, of course!"
Sales Manager. 100 Wardour Street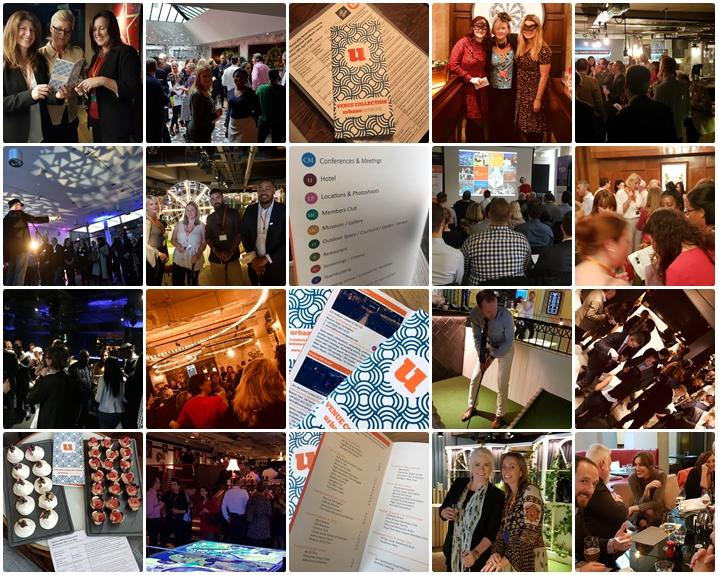 London's leading independent business community invites you to showcase your venue to a new business audience.
75,000 Subscribers
5,000 Members & Associates
Marketing Toolkit for Event Professionals to promote their own showcases
Promotional Mailers for Venues to showcase their event space
Access to searchable directory to find your business neighbours
URBANO EVENT CALENDAR
This is our current calendar of proposed events in 2020. Please note that NON-BOLDED EVENTS do not have a venue attached to them. Italicised venue names mean we are in discussions but yet to confirm dates.
Colours are used to ensure a spread of communities/events. Some venues want to reach a particular Urbano Community/audience (Women In Business or Media, for instance).

But please bear in mind, all our mailers go to the same audience and member companies of Urbano will send their teams to different events (female engineers will book Build/UWACTE events and Women In Business events). Most speaker breakfasts are hosted by Urbano members with their own conference/meeting spaces.
If you have availability and want to host a particular event, please email Caroline (caroline@urbanonetwork.co.uk)
BECOME A HOST VENUE AND BECOME AN URBANO MEMBER
In return for hosting one Urbano event, we offer our Host Venues and their sales/events/marketing teams a unique Annual Urbano Host Venue Partner Membership with access to exclusive mailers, and a range of other ways to develop their connections and promote their spaces across our community of over 5,000 Members & Associates.
We developed Urbano's Venue Collection Handbook because although we know how important relationship marketing is to the hospitality sector, it is often impossible to leave your venues. This is why the Urbano team uses our own connections and events to market your spaces. Our membership organise their own events and often look for new venues to host seminars, parties, product launches and their own networking events! Urbano acts as a free, trusted, venue finding service, connecting them to our exclusive list of Host Partner Member Venues.

Event professionals receive the following for their venue:
Annual Host Membership (full rights of Corporate Membership + Urbano Venue Promotions)
2 Free places at Urbano's seven member evenings in a calendar year
2 free places a networking event of your choice subject to availability (or one place at two events)
Your event mailer send to 75,000 business subscribers three times
Online Marketing Platform - upload your own events to Urbano's calendar for promotion (wedding showcases, gin tastings, cocktail masterclasses, breakfast events etc.)
Invitations to Urbano members' own networking and other events
Receive direct event/venue enquiries through our business community
Weekly Tender Opportunity List including conferences, event hosting, catering
EVENT HOSTING OPTIONS - ONE EVENT PER VENUE = MEMBERSHIP
Networking Lunch: 12:30 - 14:30 - Host provides a buffet lunch + 1 complimentary drink pp (wine/soft drink). Space and hospitality for 28 attendees.
Networking Evening: 18:00 - 20:30 - Host provides 2 drinks pp (wine/beer/soft drink) + canapes. Space and hospitality for 50-60

Networking Breakfast: 08:30 - 10:30 - Host provides showcase breakfast/brunch menu for 28-35 attendees.
Networking Tour/Viewings: 08:30 - 10:30 OR 18:00 - 20:00 - Exclusively for galleries and museums. Capacity and format tbc with venue and flexibility on timings.

Please note: Attendee figures are what we estimate are averages and depend on many factors, including time of year. We try to accommodate all venues wishing to host and our event attendees. We always offer venues the choice, if they can and waNt to, to increase numbers of attendees as numbers approach our estimates.
If you would like to bring a fresh audience to your venue, contact either Caroline or Julia to discuss with you the full benefits of partnering with Urbano. And if you agree to hosting one of events in 2020, we can start promoting your venue now and help connect you to companies looking for last-minute Christmas party bookings.
FREQUENTLY ASKED QUESTIONS
Is there a cost to for Host Venue Partner Membership?
No. Host Venue Partners receive Annual Company Membership for you and your venue events team. This includes access to our networking events (including member-only receptions and hospitality evenings), free venue enquiries passed on directly to you by email, facility to upload and promote your own events to our 5,000+ members (tastings, wedding open days, cocktail/whisky/wine masterclasses, etc.), and Christmas Promotions sent to our 75,000+ database.
Urbano Host Membership allows those venues and their teams to engage with businesses on the Urbano system, so we can introduce our venues event teams to prospects on their doorsteps when they are running promotions, or help when they need legal or HR advice.
Can I take out Urbano Membership and attend networking events without hosting?
No. Urbano is a closed network to venues which means ONLY representatives of Host Venue Partners can book and attend our networking events in their calendar year of membership.
What areas do you cover?
Central London locations only including City of London, Canary Wharf, Clerkenwell, Farringdon, Covent Garden, Soho, Euston, King's Cross, Fitzrovia, Marylebone, Bloomsbury, Holborn, Hoxton, Shoreditch, Mayfair, St James's, Westminster and Chelsea & Kensington.
My venue is part of a group/chain. Does the membership extend to all venues?
No. Membership is on a venue-by-venue basis. Only the venue and venue event representatives (two named people) receive membership and access to promotional benefits.
I run a Dry Hire Venue, how would this work for us?
We don't host our events without food and drink supplied, but we offer dual membership for those with tied caterers.

Can I pick the Urbano event attendees?
No. Together with the Urbano team you select the best event type and audience to match your brand and venue (women in business breakfast, for instance) and we agree a date. We focus our mailers and activities on connecting your venue to that database and encourage attendees who match your perfect profile of visitor. But everyone is connected. Urbano just has more connections than most and you can 'target' people long after your event.
How do I get listed in the Urbano Venue Collection Handbook?
Each year Urbano produces a pocket sized directory which includes a half page feature with colour photo for each of our Host Venue Partners for the year ahead. It is distributed to every attendee at our 50 events and to event organisers throughout the year. Venue listings are confirmed between October and January in order for the latest Handbook to be launched at our our January members' evening
FOR MORE DETAILS & TO CONFIRM HOSTING:
Caroline Brock or Julia Ryan
Urbano Events & Venues Team
Tel: 020 7205 2215
Email: events@urbanonetwork.co.uk

Follow: @urbanonetwork #UrbanoHostVenues #UrbanoVenueCollectionHandbook on Instagram and Twitter