Urbano Networking Evening Farringdon London
The Postal Museum
15-20 Phoenix Place
North Road
London, WC1X 0DL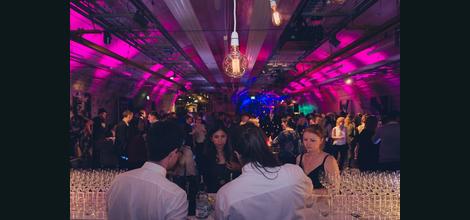 Wednesday January 24th

6:00pm
Member £0.00 + VAT
Non-Member £100.00 + VAT
Urbano Network hosts a varied calendar of weekly London networking events, including Urbano networking evenings. This networking evening is exclusively for Urbano Members (two places for Company Members).
Our evening events are hosted in a range of partner venues drawn from some of London's finest bars, members' clubs, and other venues, a diverse mix of business owners, directors and senior managers from across the various sectors represented across our membership.
The atmosphere is famously informal, friendly and even fun, or as an Urbano Member describes it, "Urbano is an enjoyable way to meet serious businesses looking to do business!".
EXCLUSIVE NETWORKING EVENING AND MAIL RAIL EXPERIENCE
The Postal Museum and Mail Rail is a brand new venue in Farringdon, Central London, that provides a unique subterranean event space and an immersive underground train ride through 100 year old secret tunnels.
Deep under the streets of the capital, a disused railway tunnel stretches for six miles. After being shut for a decade, the London Post Office Railway - known to many as Mail Rail – is now open as a visitor attraction.
Visitors are able to take an immersive ride on replica trains along a 1km stretch of these hidden tunnels and along the way will discover the history of Britain's social, cultural and industrial past.
AFTER YOU HAVE BOOKED YOUR ATTENDANCE - BOOK YOUR MAIL RAIL RIDE SLOT!
For members that have booked the networking evening, we have arranged exclusive Mail Rail rides for you that will take place BEFORE the networking evening on Wednesday 24th January 2018.
Please choose your preferred ride time from the list below - only 25 available per time slot.
A small booking fee has been set for the rides with all proceeds donated to the Postal Museum charity - The Postal Heritage Trust working to make the Royal Mail Archive and the Postal Heritage Trust collection accessible as widely as possible.
Mail Rail Ride Booking Slots:
All trains booked up. Special late train at 6.50pm still has places available: 6.50pm
Mail Rail Rides - Important Booking Information
Book your place at the Urbano Member evening event at Postal Museum first on Wednesday 24th January 2018.
Then book your train ride using the link above.
Please arrive for your booked Mail Rail Ride ten minutes before departure time (passengers on 6.50 train will be walked over).
Bookings are non-refundable and non transferrable.
__________________________________________________________________________
About Urbano Network
Urbano is London's largest and leading independent business networking community, connecting companies of all sizes and sectors in London and increasingly across the UK.
Our growing network is made up of over 5,000 members and associates, from PLC to SMEs, across different our different communities: Build, Finance, Health, Host, Media, People, and Tech. Our diverse calendar of weekly events - speaker breakfasts, lunches, workshops, and social evening events are designed to bring together those that run, or have senior positions in, their companies, to learn, share new ideas and best practice, network and develop future business opportunities.
Membership starts at £25 per month for an Individual or £39 per month for Company.