Urbano Tendering Workshop
ABG (Urbano Member)
30 City Road
London, EC1Y 2AB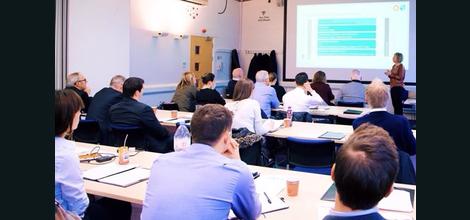 Member £65.00 + VAT
Non-Member £85.00 + VAT
'SMEs consistently make up a majority of the suppliers that win government contracts.' The latest Tussell data underlines the progress the Government is making supporting SMEs who want to supply goods and services. But with the government pledging to spend £1 in every £3 with SMEs by 2022, are you maximising the opportunities?
On Tuesday 5th June Urbano will be hosting its quarterly tendering workshop covering the key elements and gateways everyone needs to be familiar with when bidding for Local & Central Government contracts. The workshop also provides good practice and techniques when pitching generally.
WHO SHOULD ATTEND?
This workshop is open to those from any sector, from IT and creative agencies, to HR consultancies and construction, with limited or no experience in tendering as well as those wishing to improve their current success rates.
WORKSHOP PROGRAMME
Timings: 13:00 - 16:30
Overview of all the key stages of tendering - demystifying the process
How to interpret a tender, decision-making and planning
Tender writing and reviewing - and the crucial role of CVs
Tender pricing strategy and negotiating the outcome
The presenters will guide you through some of the techniques they have used successfully, and you will also have the chance to raise issues you have encountered in your tendering.
The workshop is led by Caroline Brock (Director at Urbano) and Tony Cross (Senior Partner at Empiric Partners and Urbano Member Company). Both have experience delivering hundreds of pre-qualification questionnaires, tenders and framework submissions. Caroline has managed and led working winning teams with key strengths in tender planning, writing and management. Tony, having held private, public sector and academic roles, and led high-profile tender submissions to secure funding for major projects, is well versed in negotiation with senior clients across a variety of business sectors and the fundamentals of pricing strategies.
A personal message from Caroline:
"Seeing the raft of tender notices we circulate on a weekly basis at Urbano, it amazes me that many businesses still don't see the opportunities. Yes, it can sometimes be time consuming. Yes, it can be frustrating. And it might be a rocky start. But if you have some tools to get you kickstarted, it can reap long term rewards. For smaller companies in particular it is a chance to think about what you need to get tender ready if you are looking to partner or want to bid for smaller framework lots."
Testimonials from recent attendees
"Excellent workshop. It really improved my understanding of the tendering process."
"Very useful introduction to the public procurement tendering process and enlightened me on some of the pitfalls which can be avoided when trying to secure work."
"Thoroughly engaging."
"Good presenters and content especially on negotiation."
__________________________________________________________________________________
This event is hosted at the offices of Arram Berlyn Gardner (ABG) - a multi award-winning firm of chartered accountants, auditors, tax and business advisers and Urbano Member Company.