Urbano Networking Lunch in Marylebone
Bernardi's
62 Seymour St
Marylebone
London, W1H 5BN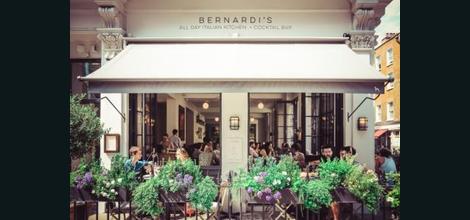 Wednesday January 8th

12:30pm
Member £25.00 + VAT
Non-Member £30.00 + VAT
Urbano Network hosts a varied calendar of weekly London networking events, including at least one networking lunch each month.
Urbano's networking events are open to all companies regardless of size, sector or area. Non-members are always welcome and our networking lunches usually attract 38 (our maximum) attendees, a mix of business owners, company directors, senior managers and corporate representatives from across all sectors, ensuring effective and valuable networking opportunities for all attendees.

Urbano Network's London networking lunches are held in restaurants, hotels and other interesting venues in central London, where our hosts provide a delicious lunch and Urbano serves up the most diverse and effective networking in London.
Urbano lunches are very relaxed and informal. We help you make introductions most relevant to you and your business, but the conversations are friendly, with the emphasis on genuine conversations rather than a series of sales pitches.
Our hosts for our first networking lunch to welcome in 2020 is Bernardi's the fantastic Italian restaurant in Marylebone owned by two Australian-raised Italian brothers Gabriel and Marcello Bernardi who bring an Antipodean approach to their motherland's cuisine.
Attendees will enjoy a delicious menu which will also meet the needs of those looking for something a little healthier after the festive indulgence.
The menu will be provided in due course but if you have any dietary issues please add to the noteds when booking.
__________________________________________________________________________________________________
About Urbano
Urbano Network is a powerhouse of connections and opportunities, hosting a diverse range of weekly networking events, from speaker breakfasts, lunches and evening events to masterclasses in networking and tendering.
Non-member companies are welcome to book and send their representatives to a MAXIMUM of TWO EVENTS to meet a small cross-section of our members, sample the quality of our events and find out about the other member services we offer. It also gives us a chance to meet you and discuss what you are looking for from your networking.
As part of our proactive approach to helping companies find new business leads, we send out a weekly Tenders & Opportunities Notice gathered from over 100 keywords relevant to our pan-sector membership (Media, Build, Finance, Host, People & Tech). For the latest list, visit: Tenders @ Urbano
Connections Membership for companies and individuals is £25 per month. Connections + Tenders is £39 per month. For more details on our membership options and benefits, including contact details of everyone you meet, search and free member events, please click here: Urbano Membership
Book now