London Networking Event - Urbano Networking networking evening in London
Strongroom Bar & Kitchen
120-124 Curtain Road
Shoreditch
London, EC2A 3SQ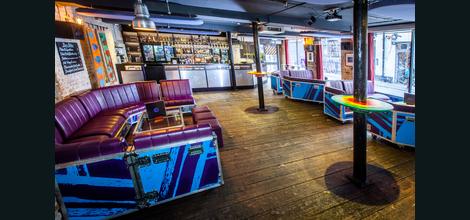 Wednesday January 29th

6:00pm
Member £0.00 + VAT
Non-Member £28.00 + VAT
Urbano Network hosts a varied calendar of weekly London networking events, including monthly networking evenings. Urbano hosts six pan-sector networking evenings and these are free as part of membership (two places for representatives of Urbano Member Companies).
Our first networking evening of 2020 (there will SEVEN such evenings in 2020) are FREE for Urbano Members (two places for Company and Connections Members of Urbano) to kick-start a new year of business, featuring companies across our membership, representing the range of businesses, from SMEs to PLC, in our various communities: Build, Finance, Host, Media, People, Tech and UWACTE.

Our hosts are the iconic Strongroom Bar & Kitchen in Shoreditch, the alternative late-night venue, bar, restaurant and one half of the legendary recording studios.

First opened in 1997 to serve to serve pints and scram to thirsty and hungry music stars and recording engineers, the fiercely independent Strongroom is run by a small, close-knit team keeping the spirit of collaboration and community alive in the heart of Shoreditch: Strongroom Bar & Kitchen
Each attendee will enjoy two hours of relaxed and (dare we say?) even fun networking, a couple of complimentary drinks & canapes courtesy of our hosts.
There are always plenty of chances to talk, share information, build associations and develop new business. We make introductions between businesses where we feel there will be common interest and value, often using knowledge gained by previous conversations or our own research.
**************************************************************************
Each Urbano event has a unique online Event Group where Urbano members can access the profiles and details of every attendee they meet to aid networking and follow-ups.
Non-member companies are welcome to book (at non-member rates) and send representatives to up to TWO Urbano events (one evening maximum) before needing to join to continue to develop valuable relationships across London's most dynamic business community.

To join Urbano in time to attend this event for free, please view benefits and options for Companies and Individuals.
Book now