Urbano business networking breakfast in Kings Cross London
Dishoom King's Cross
5 Stable St
Kings Cross
London, N1C 4AB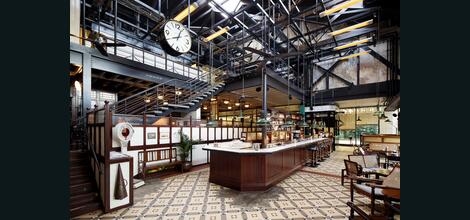 Wednesday January 26th

9:30am
Member £24.00 + VAT
Non-Member £28.00 + VAT
Urbano Network first live event in 2022 is a business networking breakfast hosted at Dishoom King's Cross now to be held on Wednesday January 26th at 9.30am.

Like all our events, you will meet a great range of companies, drawn from across our business communities: Build, Finance, Media, Host, People, & Tech, all looking forward to making new business connections in a relaxed and welcoming atmosphere.
No speeches. No business pitch and card relay. Just two hours of friendly conversations.
About Dishoom King's Cross
Dishoom, the legendary home of amazing Bombay-inspired street food, has been delighting its guests since its first opening in London's Covent Garden. Dishoom pays homage to the Irani cafés which have almost disappeared. The menu is Parsi tasty daals, biryanis, masalas, kebabs, spicy lamb chops, naan rolls - and lots of options for vegetarians.
Dishoom King's Cross branch in Granary Square is about 5 minutes walk from the station across the Regent's Canal into the newly regenerated creative, retail and hospitality hub.
We will enjoy a selection of Dishoom's usual breakfast favourites and if you want a flavout of how good the food is just check out their latest Trip Advisor reviews: Dishoom
__________________________________________________________________
About Urbano
Exchanging value, connecting communities, creating opportunities
Set up in 2011, Urbano Network is an independent business networking community, connecting companies across all sectors and sizes in London, the UK and beyond.

Urbano Network consists of different Communities: Build, Create-Media, Finance, Legal & Professional Services, People, Tech & Telecoms, UWACTE (Urbano Women In Architecture, Construction, Technology & Engineering) & Zero Carbon.

Urbano's focus is to help our members and those that represent them to connect, engage, and find new business opportunities. All events on our diverse calendar are primarily designed as catalysts to connections for our members, but also to introduce non-members to our events and the community, alongside the chance to hear from our speakers.

We have a proud record of championing issues such as zero carbon and sustainability, diversity and inclusion, workplace wellbeing and new technology – and often before others - because we believe this gives SMEs a platform as specialists to showcase themselves to larger companies and offer approaches and services not found in the corporate world.
** This event is for Urbano Members only. Non-member companies are welcome to book and send representatives to up to TWO Urbano events where open to non-members to guage whether we are a good fit for you and your business so we can help you develop valuable relationships across our dynamic business community.

To join Urbano in time to attend this event, please view benefits and options for Companies and Individuals. www.urbanonetwork.co.uk/membership