Networking breakfast at The Londoner Hotel
8 at The Londoner Hotel
38 Leicester Square
London, WC2H 7DX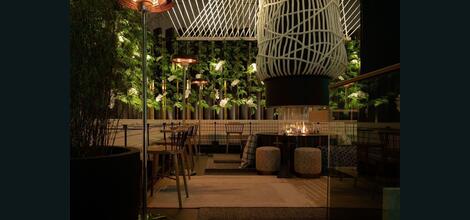 Member £24.00 + VAT
Non-Member £28.00 + VAT
Urbano Network is proud to announce a breakfast event at the recently opened and frankly wonderful 5* hotel, The Londoner, in Leicester Square.
Join us on Thursday, May 5th where we will enjoy a business networking breakfast in the hotel's '8 at The Londoner', an amazing space on the 8th floor with views of London. The award-winning space is part of a range of facilities they offer to those looking to host their own conferences, meetings, events, parties and receptions.
Like all our Urbano events, you will meet a great range of companies, drawn from across our business communities: Build, Create-Media, Finance, Host, People, Tech-Telecoms & Zero Carbon-Energy, all looking forward to making new business connections in a relaxed and welcoming atmosphere.

Our networking events are lightly facilitated, with our Connector-In-Chief, Mark Herring, orbiting the room, making introductions where his knowledge of each attendee suggests value in making a connection.
No speeches. No business pitch and card relay. Just two hours of friendly conversations.

*SOLD OUT. MEMBERS - EMAIL MARK FOR LAST-MINUTE SPACES AVAILABILITY*
~ Farmers Market Breakfast ~
Set up on multiple stations
Selection of fresh juices
- Orange, apple and pink grapefruit
Morning bakery and Viennoiserie
-Croissant au beurre, pain au chocolat, fruit Danish, artisan bread selection, strawberry preserve, orange marmalade, honey
- Homemade granola, muesli and assorted cereals
- Greek yoghurt selection
Beverage selection
- Tea and coffee
- Herbal infusions
~
About The Londoner
A staggering edifice on the southwest corner of Leicester Square, The Londoner it is a stage for drama and theatrics. A tribute to the artists, visionaries and eccentrics of the city. Teeming with experiences, its striking spaces and intimate nooks play host to inimitable dining, performances and exhibitions. This is a luxury London hotel, reimagined for the global citizen.
We will welcome our guests to the fantastic 8 at The Londoner, a restaurant space on the 8th floor with fantastic views over London.

Events at The Londoner
Versatile and vast capacities meet individualism and an unrivalled location, designed for seamless entertaining. From weddings to private dinners; big events, launch events and work events, board meetings and conferences and everything in between – experience the far reaches of possibility within our West End event venues.

https://www.thelondoner.com/plan-event/meetings-conferences

* Tours of the hotel's spaces will be arranged to take place during the event.
__________________________________________________________________
Please note non-member companies are welcome to book and send representatives to up to TWO Urbano events to gauge whether we are a good fit for you and your business so we can help you develop valuable relationships across our dynamic business community. Prices quoted on the event page are for first-time visitors and may be higher for subsequent visits.
To join Urbano in time to attend this event, please view benefits and options. www.urbanonetwork.co.uk/membership