Urbano networking evening event at The Broadcaster White City London
The Broadcaster
89 Wood Lane
White City
London, W12 7FX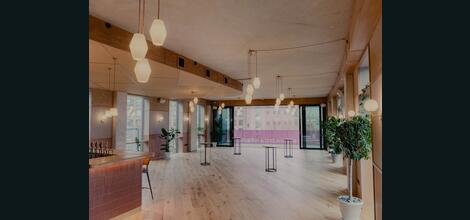 Wednesday July 13th

6:00pm
Member £0.00 + VAT
Non-Member £20.00 + VAT
Urbano Network hosts a varied calendar of networking events, including regular networking evenings such as this one which are free for representatives of member companies (see offer below), but also open to those looking to find out more about our networking community to book as non-members.
Urbano was born out of the Shoreditch Business Network, created by Urbano's Connector-In-Chief Mark Herring and others in the area back in the early 2000's. His approach to networking mirrored the lively and open nature of the early days of Hoxton, where creatives wanted to mix with each other and those from the various sectors who made their home in this part of London.
Urbano evening events are still very social, informal but lightly facilitated by Mark who makes introductions where his networking antenna knows there is potential value in a conversation.
Our hosts for this evening event will be The Broadcaster, a contemporary pub and dining room at Television Centre at White City.
Representatives from around 40 companies from across all sectors and sizes of business will enjoy two complimentary drinks - wine, lager or soft drink - and canapes from the menu below.
Crispy breaded chicken, black garlic aioli
Beetroot cured salmon, dill yoghurt, pickled cucumber
Jalapeño and cave-aged cheddar croquette
Cauliflower fritters, cashew and turmeric cream
And plenty of potentially valuable conversations and new connections!
* Summer Joiners Offer: For new Annual Company Members joining Urbano in July & August, you can enjoy TWO FREE PLACES at any of our summer lunches. See details here: Membership
________________________________________________________________
**Urbano is a membership organisation. If you like your networking to be a series of fast-paced, in-your-face sales pitches, we are not a community where you will find value. Our approach is to introduce new people to one another through introductions and conversations, helping them discover shared interests and connections. We then encourage and nuture these new relationships to reveal opportunities over time.

Non-member companies are welcome to book and send representatives to up to TWO Urbano events where open to non-members to guage whether we are a good fit for you and your business.

Member companies can send two representatives free to our six member networking evenings held throughout the year. Worth £180, annual membership is actually under £200 for a micro business (up to 6 employees) and £210 for any size of company (and this includes our tenders service).

To join Urbano in time to attend this event for free, please view benefits and options . www.urbanonetwork.co.uk/membership