Urbano networking evening event at The Bedford Hotel
Bedford Hotel
83 Southampton Row
Bloomsbury
London, WC1B 4HD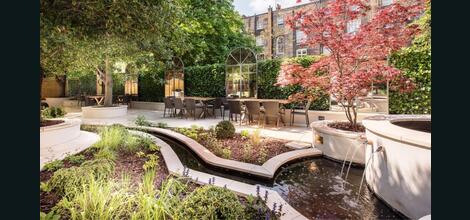 Wednesday September 21st

6:00pm
Member £0.00 + VAT
Non-Member £18.00 + VAT
Urbano Network hosts a varied calendar of networking events, including regular networking evenings such as this one which are free for representatives of member companies, but also open to those looking to find out more about our networking community to book as non-members.
Urbano was born out of the Shoreditch Business Network, created by Urbano's Connector-In-Chief Mark Herring and others in the area back in the early 2000's. His approach to networking mirrored the lively and open nature of the early days of Hoxton, where creatives wanted to mix with each other and those from the various sectors who made their home in this part of London.
Urbano evening events are very social, informal and lightly facilitated by Mark Herring, Urbano's Connector-In-Chief who makes introductions where his networking antenna knows there is potential value in a conversation.
Our hosts for this evening event will be the Bedford Hotel in central london where we will be hosted in their fantastic garden space and enjoy the following from their menu:

Event Menu (Bowl Food)
Fish & chips w/ tartare sauce
Chicken Biryani
Beef stroganoff w/ mash potato
Beetroot risotto
Pumpkin ravioli w/ ricotta

Drinks
White wine Rose & red (from our own vineyard in St. Emilion, Bordeaux)
Beer

About The Bedford Hotel
The Bedford Hotel is a tranquil haven of peace and quiet close to the British Museum and a within walking distance to Covent Garden. Dine in the restaurant or enjoy traditional afternoon tea or cocktails in the beautiful private garden.

Are you are looking for an elegant, intimate setting to hold your corporate or special event in the vibrant heart of central London? The Bedford Hotel offers a choice of two unique meeting and event spaces the Acer Room and the Wendy House. Details and enquiries here: Bedford Hotel
________________________________________________________________
**Urbano is a membership organisation. If you like your networking to be a series of fast-paced, in-your-face sales pitches, we are not the network for you. Our approach is to introduce new people to one another through introductions and conversations, helping them discover shared interests and connections. We then encourage and nuture these new relationships to reveal opportunities over time.

Non-member companies are welcome to book and send representatives to up to TWO Urbano events where open to non-members to guage whether we are a good fit for you and your business.

Member companies can send two representatives free to our six member networking evenings held throughout the year. Worth £180, annual membership is actually under £200 for a micro business (up to 6 employees) and £210 for any size of company (and this includes our tenders service).

To join Urbano in time to attend this event for free, please view benefits and options . www.urbanonetwork.co.uk/membership