Urbano networking breakfast at Dishoom Covent Garden London
Dishoom Covent Garden
12 Upper St Martin's Ln,
West End
London, WC2H 9FB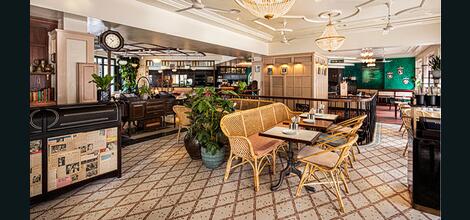 Wednesday February 8th

9:30am
Member £24.00 + VAT
Non-Member £28.00 + VAT
Urbano Network first 'open' business breakfast networking event in 2023 will be hosted downstairs at Dishoom Covent Garden on Wednesday February 8th at 9.30am.

Like all our 'open' events, you will meet a great range of people representing from across our business communities: Build, Finance, Media, Host, People, & Tech, all looking forward to making new business connections in a relaxed and welcoming atmosphere.
No speeches. No one-minute pitches. Just two hours of friendly conversations, accompanied by a tasty breakfast courtesy of Dishoom.


Event Menu
Please select ONE of the following and put yourchoice into NOTES when booking.

BACON NAAN ROLL
Ramsay of Carluke's smoked streaky bacon is matured in the traditional Ayrshire way and then smoked over applewood and beechwood chips. A Dishoom signature dish, and deserving of all its accolades.

EGG NAAN ROLL (V)
Two fried free-range eggs with saffron-yellow, runny yolks. Warm and most gratifying. (v)

VEGAN SAUSAGE NAAN ROLL (VE)
A delicious sausage developed with Chef Neil Rankin. Cleverly fermented vegetables and best sausage spices to enhance the umami.
SWEET UTTAPAM STACK (V)
Thrice stacked, lightly frilled. Not unlike a pancake. Topped with creamy shrikhand (sweet yoghurt), fresh berries, toasted coconut flakes and jaggery syrup.
FRUIT & YOGHURT (V)
Fresh seasonal fruits topped with creamy yoghurt infused with fresh vanilla pod, and starflower honey. Dairy or coconut yoghurt.
HOUSE GRANOLA (V)
A Dishoom recipe, handmade with toasted oats, seeds, cashews, almonds, pistachios and cinnamon. Served with fresh seasonal fruits, creamy vanilla yoghurt and starflower honey. Dairy or coconut yoghurt.
PLEASE PUT YOUR CHOICE IN 'NOTES' WHEN BOOKING!!
At the event, you can order your choice of coffee, chair or tea (included in the price).
Notes
Due to the nature of our events, bookings once made can be transferred to another representative of the booking company but cannot be cancelled and refunded.
All Urbano events - unless stated - are open to non-member companies which can book a maximum of TWO events for their team members to guage whether we are a good fit for your business. Memberships pay for us to exist and to organise events.
To join Urbano in time to attend this event, please view benefits and options here. www.urbanonetwork.co.uk/membership