London networking event - networking lunch at Steam and Rye
Steam and Rye
147 Leadenhall Street
City of London
London, EC3V 4QT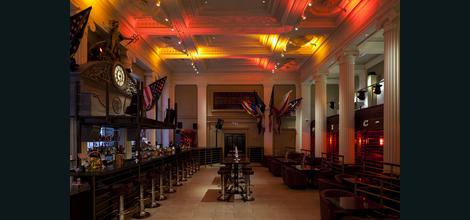 Wednesday July 9th

12:30pm
Member £20.00 + VAT
Non-Member £25.00 + VAT
Urbano Network hosts a varied calendar of weekly London networking events, including breakfast events featuring great speakers, networking lunches and a networking evening.
Urbano's networking events are open to all companies regardless of size, sector or area. Non-members are always welcome and our networking lunches always attract a diverse range of attendees, and are held in great restaurants where our host venues provide a delicious lunch and Urbano serves up the most diverse and effective networking in London.
SORRY - SOLD OUT.

The emphasis at Urbano's networking is on relaxed and friendly and facilitated networking. There are is always plenty of chances to talk, share information, build associations and develop new business. We make introductions between businesses where we thing there will be common interest and value, often using knowledge gained by previous conversations.
Our host venue for this lunch is Steam and Rye, the classic Americana Restaurant, Late Night Cocktail Bar & Discotheque in the heart of the City of London, jointly owned by Nick House & Kelly Brook.
Our hosts will provide a special menu from their lunch offerings:
Special 2-Course Menu
Main (choice of)
Steam & Rye burgers & fries
Or
Mac & cheese
Dessert
Key Lime Pie
Chocolate Brownie
+ Complimentary glass of wine, beer or soft drink
Each Urbano event has a unique online Event Group where every attendee and their company is profiled, accessed through your own Urbano Dashboard. Members get access to full contact details of every attendee. All attendees can access the profiles of people you meet at this event through the Event Group published after the event.
Non-member price quoted on the event page is the discounted rate for a company's first visit. The price quoted on the actual payment page (usually £28 - £45) is the price relevant for you and the events your company has attended. Non-members companies are allowed to attend up to three networking events.
To join Urbano and enjoy this event free, please view the current membership offer. Membership starts at 69p per day.
www.urbanonetwork.co.uk/membership