Urbano evening networking event
Bishopsgate Exchange
158 Bishopsgate
City of London
London, EC2M 4LN
Wednesday February 22nd

6:00pm
Member £0.00 + VAT
Non-Member £25.00 + VAT
Our February Urbano networking evening event for members and non-members* takes place at Bishopsgate Exchange, opposite Liverpool Street station. Our last evening event in January was sold out and we had to turn away over 20 companies so please book early!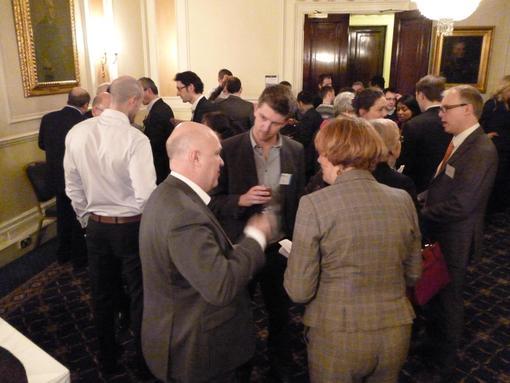 Urbano holds ten evening events per year which are famously relaxed and informal events, with facilitated networking and a unique online Event Group for post-event networking. Everyone is given an attendee sheet with the details of every company and their representatives.
Urbano's Chief Networking Officer, Mark Herring, welcomes all with a glass of wine and helps you find interesting contacts within the roomful of business owners, directors, partners, senior managers and entrepreneurs. The conversations are unpushy and the emphasis is on making connections with everyone, and like all Urbano events the evening is seen as a catalyst to future business opportunities, collaborations, associations and potential new contracts! For photos of previous events, click here: Urbano Network photos.
Each Urbano event has a unique online Event Group where the profiles of everyone who attends are showcased, allowing you to make renew connections well after the event has finished and ensure you need never worry again about losing a business card! These profiles are accessed through your own Dashboard, found by logging in using the top link once you have booked.
Testimonial
"Urbano evening events are the best nights of networking I have ever had. I have been to hundreds of events but the mix of people and connections I make are always brilliant for me and my business. Truly the most fun and productive nights EVER. And you can quote me on that."
Maverick Litchfield Kelly, Neath Films (www.neathfilms.com)
For this event, we will all enjoy a couple of complimentary glasses of wine, nibbles and tremendous opportunities to connect and create business opportunities.
*For busy events priority booking is given to members. Urbano members enjoy all of our ten evening events for free! Join Urbano now and your company's membership will enjoy 13 months for the price of 12 (£295). A monthly payment option is also available. More details here: https://www.urbanonetwork.co.uk/membership