London networking event - Marylebone - networking lunch at Bernardis
Bernardi's
62-64 Seymour Street
Marylebone
London, W1H 5BN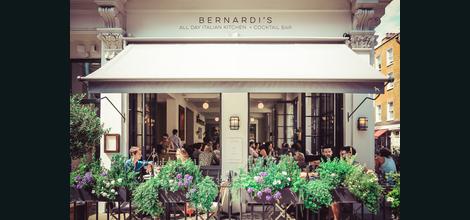 Wednesday March 16th

12:30pm
Member £24.00 + VAT
Non-Member £28.00 + VAT
Urbano Network hosts a varied calendar of weekly London networking events, including at least one networking lunch each month.
Urbano's networking events are open to all companies regardless of size, sector or area. Non-members are always welcome and our networking lunches usually attract 38 (our maximum) attendees, a mix of business owners, company directors, senior managers and corporate representatives from across all sectors, ensuring effective and valuable networking opportunities for all attendees.

Urbano Network's London networking lunches are held in restaurants, hotels and other interesting venues in central London, where our hosts provide a delicious lunch and Urbano serves up the most diverse and effective networking in London.
Urbano lunches are very relaxed and informal. We help you make introductions most relevant to you and your business, but the conversations are friendly, with the emphasis on genuine conversations rather than a series of sales pitches.
Our hosts for this networking lunch is Bernardi's the fantastic Italian restaurant in Marylebone owned by two Australian-raised Italian brothers Gabriel and Marcello Bernardi who bring an Antipodean approach to their motherland's cuisine.
Bernardi's is now open for breakfast Monday – Friday from 8am, take a look at the weekday menu here: Menu and the weekend menu here: Menu
AND Get 50% off the breakfast food bill 7 days a week if you book before 1st April!Call the restaurant on 0203 826 7940, or email reception@bernardis.co.uk.
Menu
CROSTINI
Salt cod & black olive crostini
Wild mushroom & gorgonzola crostini (v)
Tuscan chicken liver parfait crostini

PIZZETTE
Fennel sausage & sprouting broccoli pizzette
Aubergine, Scamorza & chilli pizzette (v)

CANAPÈS
Tomato & basil arancini (v)
Cured salmon, orange & basil Compressed melon and prosciutto
Veal, pork & fennel polpette
SWEET
Chocolate & Amaretto truffle
Blood orange pate de fruits

Plus a complimentary drink courtesy of our hosts.
After each event, we publish a unique online Urbano Event Group. where every attendee - including non-members - is profiled, allowing you to stay connected long after the event has finished. Login via the Urbano website and view vai your Dashboard created upon your first booking.
Non-member companies are welcome to book and send representatives to up to TWO Urbano events before needing to join to continue to develop valuable relationships across London's most dynamic business community.
To join Urbano in time to attend this event at appropriate member rates, please view benefits and options for Companies and Individuals. www.urbanonetwork.co.uk/membership