STOP Being Ripped Off And Get Your Business Back On Track!
Christopher Burgon Solicitors
20 Old Bailey
London, EC4M 7AN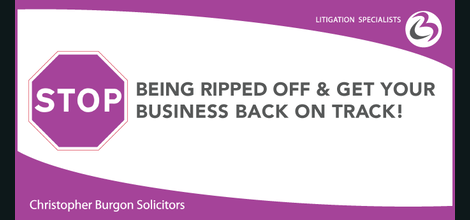 Thursday April 15th

11:00am

Christopher Burgon Solicitors
About Christopher Burgon Solicitors
Christopher Burgon Solicitors - Litigation Specialists Commercial and Property Litigation Solicitors
A Unique Zoom Webinar by Christopher Burgon Solicitors
What's the best way to resolve a business dispute if you're a majority shareholder and you think you're being ripped off? Do you know all your options and how best to seize back control? More importantly, do you understand the different outcomes you can achieve? Here is a rare opportunity to learn first-hand from Christopher Burgon Solicitors, one of London's leading firm of litigation specialists, how best to protect your interests and realise that winning resolution!
This special Zoom webinar event is specifically designed for majority shareholders and company directors (CEOs, MDs FDs) of limited companies based in the United Kingdom, financial and legal professionals, specialist business media journalists.
Spaces are limited – so book your place now.
https://www.eventbrite.co.uk/e/stop-being-ripped-off-and-get-your-business-back-on-track-tickets-142403044339
View event site