Lockton Global Benefits Forum 2019
Sea Containers London
20 Upper Ground
London, SE1 9PD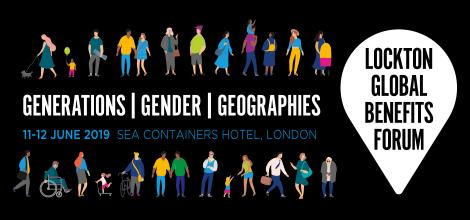 About Lockton Benefits
Lockton Benefits is a global employee benefit consultancy. We help organisations optimise their health, risk and wellbeing programs.
*** We have a limited number of FREE PASSES AVAILABLE - please contact Dymphna Hopkins if interested in the event ***
The 2019 Lockton Global Benefits Forum will bring together HR and industry leaders to tackle the challenges that have particular urgency today for companies doing business around the world: the five-generation workforce, gender and pay parity, health and safety concerns, to name a few. New approaches to HR policy and employee benefits programs can be integral to promoting workforce cohesion while responding to the needs of individual employees of different ages, genders, nationalities and cultures.The event runs for two days, 11 and 12 June 2019.
Generations, gender and geographies in the workforce
The global workforce has never been more diverse than it is today, which creates tremendous opportunity for multinationals to create synergy between employees of different generations, genders, geographies and cultures. For companies to truly benefit from the growing diversity of their talent, they must value real differences while working to eliminate discriminatory treatment. Our forum agenda is now available to view on our website and is packed with exciting talks across the two days. These include insights from futurist Mark Stevenson, HR specialist Debra Corey, and senior representatives from organsations such as Boston Consulting Group, Finastra and Eversheds Sutherland and many more!
View event site