Spencer West Christmas Carol Service
St Mary Le Bow Church
Cheapside
City of London
London, EC2V 6AU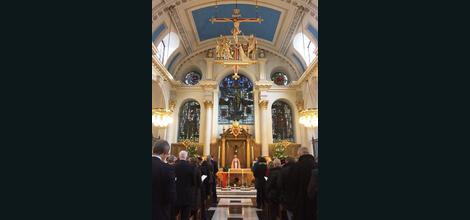 Monday December 9th

6:00pm
About Spencer West LLP
Spencer West LLP - London based law firm specialising in commercial law. Expertise in Construction, Insurance, Tech, Media & Leisure.
We would like to invite you to our annual Christmas Carol Service. The Service will take place at St Mary-le-Bow church on Cheapside (near St Paul's) on 9th December at 6.00pm. There shall be carols and festive cheer, a marvellous choir, refreshments and warming mulled drinks. Open to those of any religion or none – only prerequisite is to like carols!
We would be grateful if you would please reply to let us know whether you are able to attend. We hope to see you.
About St Mary-le-BowThe church was built c1080 by Lanfranc who accompanied William the Conqueror to become his Archbishop of Canterbury. The church is famous for its Bow Bells (the great bell of Bow in 'oranges and lemons'). In the Middle Ages it had a single 'curfew' bell which rung from the site in the middle of London's central street – Cheapside – to indicate the end of the working day. If you could hear a Bow bell – you must be a Londoner or 'cockney'. The church was destroyed by the Great Fire – except for the beautiful Norman undercroft – and rebuilt by Sir Christopher Wren. The church was severely damaged by enemy fire in 1941, then rebuilt but the architecture remains that of Wren's. The church also serves as the appeal court in matters of ecclesiastical law.
View event site