Urbano Communities
Urbano Build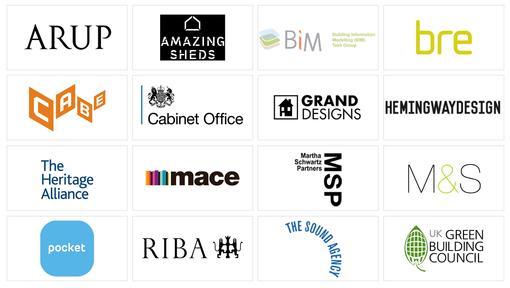 For over ten years, Mark Herring, Urbano's Founder, has been bringing together audiences to hear high-profile speakers from the world of building, property and the built environment and to network with diverse companies of all shapes and sizes across the sector.

Urbano hosts around 10 Build events over the year, including breakfast events that feature great speakers, networking lunches* and networking evenings*.
Previous Build speakers include RIBA President Stephen Hodder, Kevin McCloud (Grand Designs), Wayne Hemingway, Sofie Pelsmakers, Peter Studdert (Chair - London Design Group), Andrew Kinsey (Mace PLC), The Minister for Architecture, Chairs of CABE and BURA, Martha Schwartz (landscape architect), Theis + Khan, Jackie Sadek, CEO of UK Regeneration and Mark Bew, the Government's BIM Champion amongst others.
Urbano Build's programme is a co-ordinated event programme and network for architects, developers, property investors, designers, interior designers, innovators, landscapers and other sector professionals to connect, gather information, create associations and alliances, and build a community based on mutual encouragement and sharing market knowledge to help their businesses survive and thrive.

Non-member companies are welcome to book and send representatives to a maximum of TWO Urbano events in total, including Urbano Build events before needing to join and experience the full benefits of membership.

Urbano is deliberately diverse and connects companies of different sectors, sizes, specialisms and at different stages, but all focused on seeking opportunities to improve, develop, conenct and grow.
Urbano Build is part of Urbano Network, which creates connections between all our Communities: Business, Finance, People, Media, Host, Health, Tech and of course Build.
Membership of Urbano Network gives you and your business access to ALL Urbano events including our pan-sector networking lunches and free monthly evening events*, and our unique online networking tools, including our weekly Tender Opportunities Notices.

For more details on the benefits of membership, click here Urbano Membership
Past Events & Speakers List
January 2012 - Jackie Sadek, CEO of UK Regeneration
March 2012 - Mark Bew, Government Champion of BIM
June 2012 - Marc Vlessing, CEO Pocket Living
November 2012 - RIBA Exhibition - Design Stories (2012)
January 2013 - Wayne Hemingway, HemingwayDesign
February 2013 - Peter Studdert, Chair - Design Review Group, London
March 2013 - Sofie Pelsmakers, Author of The Environmental Design Pocketbook
June 2013 - Networking lunch, Malmaison Hotel
August 2013 - Andrew Kinsey, Sustainability Director, Mace Group PLC
October 2013 - Kevin McCloud, Grand Designs/HAB Housing
December 2013 - Build evening at Punto IT Showrooms, Clerkenwell

January 2014 - Stephen Hodder, RIBA President
March 2014 - David Philp, Head of BIM Implementation, Cabinet Office
May 2014 - Networking Evening, Clerkenwell Design Week at Punto. IT's showrooms
May 2014 - Julian Treasure, CEO The Sound Agency
June 2014 - Loyd Grossman, Chair of The Heritage Alliance
July 2014 - Oliver Schneider, CEO of The Facility
September 2014 - Ed Green, Crown Commercial Service, on Procurement
November 2014 - Alexander Jan, ARUP's transaction advice leader
December 2014 - Networking evening at Hermann Miller Showroom
January 2015 - Steve Radley, Director of CITB
February 2015 - Anne Dye, Head of technical research at RIBA
February 2015 - Professor William Webb on IOT/M2M
March 2015 - John Alker, UK Green Business Council
April 2015 - Casey Rutland, ARUP (on BIM)
May 2015 - Lunch, Clerkenwell Design Week
June 2015 – Economic report on the London and UK Property market, Nina Skero, CEBR
July 2015 – Robert Biggs, ex Chair of Considerate Constructors Scheme, on diversity in the construction industry
Sept, 2015 - Jane Duncan, President of RIBA
Oct, 2015 - Jackie Sadek, CEO of UK Regeneration
Nov, 2015 - Urbano breakfast with BRE
January 14th, 2016 - Will Hardie, architect and presenter
January 27th, 2016 - Jay Carver on Crossrail archeology

February 2016 - Anne Kemp, Atkins on BIM2
April 2016 - Urbano networking build breakfast on accessibility with Jean Hewitt
May 2016 - Clerkenwell Design Week evening event, in association with Steelcase
June 2016 - Workplace Wellbeing Build breakfast with Professor Kerstin Sailer & SpaceLab at Senate House, University of London
July 6th 2016 - VR & Visual Tech Showcase at Inition Shoreditch
September 15th 2016 - David Philp, previous head of BIM implementation in Government Construction Strategy
October 13th 2016 - Networking breakfast with Dan Hopwood, director of Studio Hopwood and past president of the British Institute of Interior Design
November 10th 2016 - Urbano Build networking breakfast event, featuring guest speaker architect George Clarke, currently presenting Channel 4's Old House, New Home.
January 12th 2017 - Urbano Build Networking Breakfast event featuring Dr David Hancock, Head of Construction in the Government Construction Team
February 9th 2017 - Urbano Build networking breakfast event on BIM & Smart Cities, with Andrew Pryke of BAM Design
February 22nd - Urbano Evening event - Century Club in Soho (free for Urbano Members with Build community always well represented)
March 2nd - Networking breakfast and private view of the Fire!Fire! Exhibition at the Museum Of London
March 9th 2017 - Urbano Build networking event with Sadie Morgan co-founder of dRMM and Chair of HS2 Design Panel
March 13th - FREE MIPIM Attendees online networking griup for Urbano Members & Associates attending MIPIM 2017
March 17th - Urbano Monaco networking lunch, including MIPIM attendees
May 4th Urbano Build Speaker & Networking Event in Clerkenwell with speakers David Leonard and Dr. Chris Ward
May 24th Urbano business networking lunch event in Clerkenwell
July 6th Build Networking Breakfast Event with Alan Crane
** All Urbano monthly evenings (free for Urbano Members) and most of our networking lunches are pan-sector and you will meet others from the Build Communities, as well as a range of companies.**
Urbano members are not limited to events in their sector, so a member company in construction can send their HR director to hear a People speaker, and Media members find architects keen to find out how animation can be used in the new BIM environment.
Speaker Testimonials
Jackie Sadek, CEO of UK Regeneration, on Urbano:
"I found I was ranting and raving in a very unclever way again yesterday morning, at some ungodly hour in Hatton Garden, as I addressed the Urbano Build network about my mission to kick-start a real step-change in regeneration.

Now, I may grumble about getting up early for these things, but I always find time for the Urbano Network. They have a philosophy of "exchanging value" that I find rather empowering.

Urbano, run by the redoubtable Mark Herring, offers a safe facilitating vehicle brokering for opportunities for smaller companies to get involved, both with each other, and with larger partners. They champion the cause of the smaller, quality suppliers, especially in areas such as BIM, design and new technologies.

I always learn something of real value when I'm with them. And they're entrepreneurs, so they're a creative and energising lot to be with. Community building with businesses in economic partnerships, through our work and events and even online (steady now) is a key part of the UKR journey, of course. And the Urbano entrepreneurs certainly seemed to like the UKR business model.

I found myself among friends, despite (or perhaps because of) all my ranting. I was asked a number of fascinating questions (and some more off the wall, such as: was I the next Kevin McLeod?) by a group of people who were thoroughly engaged."
Full article here: Estates Gazette
Other speaker testimonials

I really enjoyed myself and hope I was not too vociferous – as you can tell I am quite tenacious in my wishes and approach. The Urbano network was really interesting and I will see if there is a way of enticing more architects in as it was a shame there weren't more there to benefit from the connections and conversations!
Jane Duncan, President RIBA
I must admit I was impressed by the range of folk who were there & very glad to have the opportunity to speak to them. Mostly one goes to events populated by the usual architectural suspects! I've already had a couple of interesting connections myself!
Anne Dye, Head of Research, RIBA

Mike Roberts, Hab Housing's MD
"Many thanks to Mark and Urbano for hosting Kevin [McCloud] and the senior team from Hab at October's Build event. Hab Housing had just come out of an intense crowd funding period for our business - which Mark had helped us promote - and it was excellent to ruminate and digest on the process and its potential application to the wider market with such an engaged audience."

"Nice crowd , good contacts made ..v tasty breakfast!"
Wayne Hemingway, HemingwayDesign (Urbano Profile)

"I joined Urbano this month as part of my New Year's resolution to go networking to help my business grow. After attending a couple of events as a non-member, I was tracked down by Marc Vlessing of Pocket whom I met at an Urbano breakfast."
Join community
Next Events