Urbano Network London Networking Membership
Urbano Network is London's leading business networking community with over 5,000 Members and Associates, building connections for all sizes and sectors of company, with a range of unique tools that help develop valuable connections and facilitate new business.
Urbano is a pan-sector network, connecting all sizes of companies, both within in and across their different sectors. Urbano Network is built on different Communities (Business, Finance, People, Build, Media, Tech & Host), reflected by our events which usually combine two or more of these Communities. Online, in addition to the wider Communities, we have Event Groups, Crowds and Connections, designed to bring together companies and individuals with shared interests.
WHEN YOU JOIN URBANO, YOUR COMPANY JOINS THE NETWORK AS A WHOLE.
APPLICATION PROCESS & FEES
Company Membership is £395 (Annual) or £39 (Monthly).
Individual Membership is £250 (Annual) or £25 (Monthly).
Charity Membership is £295 (Annual) or £29 (Monthly).
The benefits table below provides details on the benefits received for each type.
Email Caroline (caroline@urbanonetwork.co.uk) your preferred status (Company, Charity or Individual) and your payment option as outlined below (BACs, Debit Card, Credit Card or Direct Debit).
BACS
For BACs payees, we will send you an invoice with our bank details.
Debit/Credit Card
For card payees, we will send you an invoice and a number to call to make payment (please note: credit card payments carry a £10 fee to cover additional bank charges)
Direct Debit
For Direct Debits see the options at the top of this page to click through for payment set-up (you can do this now if you prefer).
DIRECT DEBIT SIGN UP OPTIONS - click on the one you wish to choose to set up instantly
All prices shown here are excluding VAT.
The price you see on the Direct Debit setup page will be inclusive of VAT.
On clicking confirm, an instruction is sent to your bank according to the option chosen.
MEMBERSHIP COMPARISON TABLE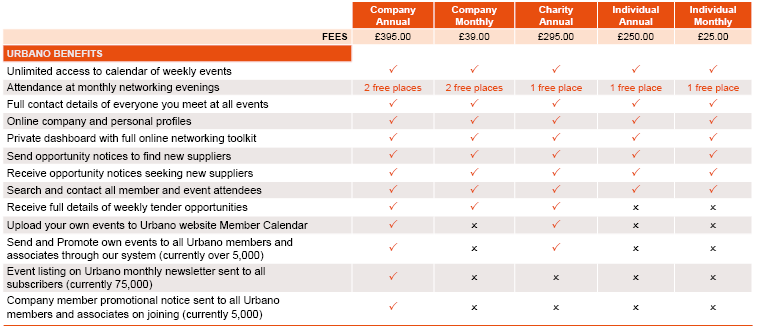 Membership Notes:
Urbano Company Membership status is not restricted to limited companies, but is used by Urbano to distinguish the benefits and services that member receives, not the legal status of the applicant
Charity membership is restricted to registered charities. Please make sure you include your charity number on your membership email.
All monthly direct debit memberships are for a minimum 12 month term.
All prices quoted on this page are ex VAT.
_________________________________________________________________________________________________________
Urbano is a lean organisation and by requesting membership, you are confirming you can request a membership on behalf of your company. Benefits start on payment and we ask that invoices are settled within 7 days or before your first event as member whichever is sooner. Annual membership is for a calendar year from date of invoice.
Those unable to process invoices in this time frame, please let us know when you receive the invoice and we will help you continue to book events at non-member rates, subject to our discretion and availability of spaces (excludes free evening events).

If we are asked to raise a membership invoice and it is not paid, we will deactivate your Urbano profile and no-one from that company can attend or join Urbano in the future.