London Networking Event - Networking Lunch in The City
Balls Brothers Adams Court
6 Adam's Court
City of London
London, EC2N 1DX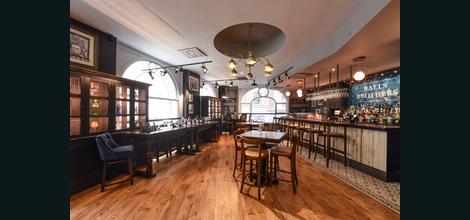 Wednesday February 6th

12:30pm
Member £25.00 + VAT
Non-Member £30.00 + VAT
Urbano Network hosts a varied calendar of weekly London networking events, including at least one networking lunch each month.
All Urbano events are designed to be catalysts to connections. Informal, enjoyable and lightly facilitated, we make introductions between attendees based on our knowledge of the companies each person represents.

This event is event is aimed primarily but not exlcusively for those companies who themselves are in sectors under our Finance, Tech & People Communities, such as financial advisors, funders, FinTech start-ups, software developers, engineers, BIM experts, VR & HR specialists, recruiters, digital specialists, sustainability advisors, and other professional disciplines - to network over a tasty lunch and a complimentary drink.
Since Urbano began in 2011, we have had a proud track record of championing opportunities for women, especially in historically male dominated industries and sectors, such as construction and engineering. Around 50% of an Urbano event audience is female, many running their own companies or with senior positions at larger companies. Our speakers have also included many leading and inspiring women and men from across the ACTE & STEM sectors.
Our hosts for this networking lunch is Balls Brothers Adam's Court in the heart of The City of London nestled in a bustling courtyard just yards from Bank Station.
Spread across 3 floors, including our ground floor bar, The Copper Bar and the Top Floor – this venue boasts a host of experiences for you to enjoy. From flexible spaces from private dining & drink receptions, to large corporate events.
Our networking lunch will take place in The Copper Bar private space where we will enjoy a tasty selection from their menu and a complimentary drink.
~ Buffet Style Lunch Menu ~
Fish & Chips
Vegetable tagine with cous cous
Chicken & Mushroom Cassoulete with Rice
Selection of salads
Mixed sandwich platters
Chips
Mini Sausages
_________________________________________________________________________
About Urbano
Urbano Network is a powerhouse of connections and opportunities, hosting a diverse range of weekly networking events, from speaker breakfasts, lunches and evening events to masterclasses in networking and tendering.
Non-member companies are welcome to book and send their representatives to a MAXIMUM of TWO EVENTS to meet a small cross-section of our members, sample the quality of our events and find out about the other member services we offer. It also gives us a chance to meet you and discuss what you are looking for from your networking.
As part of our proactive approach to helping companies find new business leads, we send out a weekly Tenders & Opportunities Notice gathered from over 100 keywords relevant to our pan-sector membership (Media, Build, Finance, Host, People & Tech). For the latest list, visit: Tenders @ Urbano
Connections Membership for companies and individuals is £25 per month. Connections + Tenders is £39 per month. For more details on our membership options and benefits, including contact details of everyone you meet, search and free member events, please click here: Urbano Membership