London Networking Event - Networking Lunch in Marylebone
Bernardi's
62 Seymour St
Marylebone
London, W1H 5BN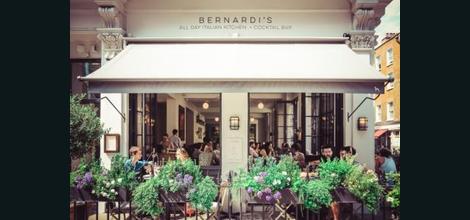 Wednesday March 13th

12:30pm
Member £25.00 + VAT
Non-Member £30.00 + VAT
With over 40 Urbano Member Companies heading to MIPIM Week in Cannes (12th - 15th March), we are hosting this networking lunch for those not able to travel out to France this year, including those from companies who have representatives out there on La Croissette, and others who have never attended MIPIM.
This event will bring together those from our Build, UWACTE, Finance and other Communities ,and others from across the Built Environment sectors and byong, whether Founder/Owners of SMEs or from larger sector-focused corporates.
This fantastic Italian restaurant in Marylebone is owned by two Australian-raised Italian brothers Gabriel and Marcello Bernardi who bring an Antipodean approach to their motherland's cuisine.
Attendees will enjoy a specially selected menu for our networking lunch, hosted in Bernardi's private space 'The Dog House', along with a complimentary glass of wine or soft drink.
Our Networking Lunch Menu will be listed soon.
__________________________________________________________________________
About Urbano
Urbano Network is a powerhouse of connections and opportunities, hosting a diverse range of weekly networking events, from speaker breakfasts, lunches and evening events to masterclasses in networking and tendering.
Non-member companies are welcome to book and send their representatives to a MAXIMUM of TWO EVENTS to meet a small cross-section of our members, sample the quality of our events and find out about the other member services we offer. It also gives us a chance to meet you and discuss what you are looking for from your networking.
As part of our proactive approach to helping companies find new business leads, we send out a weekly Tenders & Opportunities Notice gathered from over 100 keywords relevant to our pan-sector membership (Media, Build, Finance, Host, People & Tech). For the latest list, visit: Tenders @ Urbano
Connections Membership for companies and individuals is £25 per month. Connections + Tenders is £39 per month. For more details on our membership options and benefits, including contact details of everyone you meet, search and free member events, please click here: Urbano Membership
Book now