London networking event - Urbano Networking Lunch in Soho
100 Wardour St
100 Wardour Street
London, W1F 0UH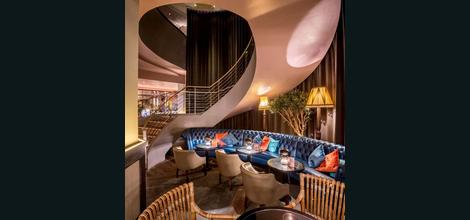 Wednesday November 13th

12:30pm
Member £25.00 + VAT
Non-Member £30.00 + VAT
Urbano Network hosts a varied calendar of weekly London networking events, including at least one networking lunch each month.
Urbano's networking events are open to all companies regardless of size, sector or area. Non-members are always welcome and our networking lunches always attract a lively mix of business owners, company directors, senior managers and corporate representatives from across all sectors, ensuring effective and valuable networking opportunities for all attendees.
Our hosts for this networking lunch is the 100 Wardour Street - an exciting destination for dining, drinks and live music, right in the heart of London's vibrant Soho.
We will be hosted in their Playroom for drinks and a tasty selection from their diverse, all-day menu.
100 Wardour's Lounge is an ideal working destination from Monday to Friday with free wifi and plenty of space, blending into a restaurant with access to private dining and semi prviate spaces and amazing club downstairs where artists including David Bowie and the Rolling Stones strutted their stuff!
~ Lunch Menu ~
Mini beef burger, truffle aioli, gherkin
Baked Cornish crab, leek & dill tart
Truffle & parmesan arancini
Spinach falafel, tzatziki dip
Lemon meringue pie
Plus a complimentary glass of red or white wine or soft drink alternatives.
__________________________________________________________________________
About Urbano
Urbano Network is a powerhouse of connections and opportunities, hosting a diverse range of weekly networking events, from speaker breakfasts, lunches and evening events to masterclasses in networking and tendering.
Non-member companies are welcome to book and send their representatives to a MAXIMUM of TWO EVENTS to meet a small cross-section of our members, sample the quality of our events and find out about the other member services we offer. It also gives us a chance to meet you and discuss what you are looking for from your networking.
As part of our proactive approach to helping companies find new business leads, we send out a weekly Tenders & Opportunities Notice gathered from over 100 keywords relevant to our pan-sector membership (Media, Build, Finance, Host, People & Tech). For the latest list, visit: Tenders @ Urbano
Connections Membership for companies and individuals is £25 per month. Connections + Tenders is £39 per month. For more details on our membership options and benefits, including contact details of everyone you meet, search and free member events, please click here: Urbano Membership