London networking events - Urbano business networking breakfast in Kensington W8
Dishoom Kensington
4 Derry Street
Kensington
London, W8 5SE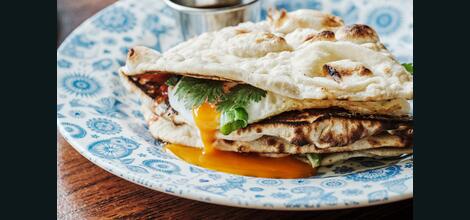 Wednesday February 19th

8:30am
Member £25.00 + VAT
Non-Member £30.00 + VAT
Urbano Network hosts a varied calendar of weekly London networking events, all designed to be catalysts to new business connections and opportunities.
This year we are adding networking business breakfasts to offer companies and those that represent them two hours of brilliant connections and a tasty menu to set them up for the day!

We are delighted to announce that our first Urbano Business Networking Breakfast is hosted by Dishoom Kensington. Like all our events, you will meet a great range of companies, all serious on making new business connections, but in a relaxed and welcoming atmosphere.
Companies will be drawn from across our business communities: Build, Finance, Media, Host, People, & Tech.
No speeches. No business pitch and card relay. Just two hours of friendly conversations.
About Dishoom Kensington
Dishoom, the legendary home of amazing Bombay-inspired street food, has now opened its latest branch in Kensington.
Dishoom Kensington is inspired by the golden age of Indian jazz and art deco, styled after 1940's Bombay. So it's appropriate that they're holing up in the very art deco Barkers Building on Kensington High Street, sprawling over their biggest space yet with seats for 200, and a further 50 in their cocktail den, the Permit Bar.
It's a far grander affair than the back-street café vibe of its forebears. Parquet floors and softly muted wall colours are illuminated by stunning art deco lighting – but there's still the characteristic smattering of vintage, post-Independence era bric-a-brac around the space; from vintage posters to table fans and radios.
https://www.urbanonetwork.co.uk/directory/6039/dishoom-kensington

Our networking breakfast menu will include highlights from Dishoom's famous breakfast featsing menu including chai, granola and breakfast naans , both meat and vegetarian.
__________________________________________________________________
About Urbano
Urbano is London's largest and leading independent business networking community, connecting companies of all sizes and sectors in London and increasingly across the UK.
Urbano has around 400 member companies, from PLC to SMEs, our different communities: Build, Finance, Health, Host, Media, People, and Tech. Our diverse calendar of events - speaker breakfasts, networking lunches and evenings - are designed to bring together those that run, or have senior positions in, their companies, to learn, share new ideas and best practice, network and develop future business opportunities.
ANY COMPANY CAN SEND REPRESENTATIVES TO A MAXIMUM OF TWO URBANO EVENTS TO GAUGE THE QUALITY OF OUR EVENTS, MEET A RANGE OF MEMBERS AND DECIDE IF OUR PRO-ACTIVE APPROACH TO DELIVERING VALUE TO OUR MEMBERS IS THE RIGHT FIT FOR YOUR BUSINESS.
Membership starts at £25 per month for an Individual or £39 per month for Company. For benefits, options and fees, please click here: Urbano Membership