London networking events - Urbano March networking evening in the City of London
Devonshire Club
4+5 Devonshire Square
London, EC2M 4YD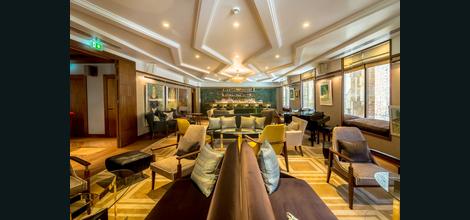 Member £0.00 + VAT
Non-Member £100.00 + VAT
Urbano Network hosts a varied calendar of weekly London networking events, including monthly networking evenings. Urbano hosts six pan-sector networking evenings and these are free as part of membership (two places for representatives of Urbano Member Companies).
Our Member networking evenings (we host SEVEN such evenings throughout the year) are FREE and exclusive for Urbano Members representing the range of businesses, from SMEs to PLC, in our various communities: Build, Finance, Host, Media, People, Tech and UWACTE.

We also look forward to meeting members of the Devonshire Club too. Please contact their membership team to book your place at the event!
ABOUT OUR HOSTS: DEVONSHIRE CLUB
Devonshire is a private members' club and boutique hotel in the heart of the City of London.

Set across two floors, the main member spaces of the Devonshire Club lend themselves perfectly to be enjoyed for both work and play. Three bars, two luxurious lounges, a beautiful garden room, terrace and four private event rooms – the Devonshire Club offers members endless opportunities for both pleasure and business.
For more details about our hosts, please click here: Devonshire Club
Each attendee will enjoy two hours of relaxed and (dare we say?) even fun networking, a couple of complimentary drinks & canapes courtesy of our hosts. There are always plenty of chances to talk, share information, build associations and develop new business. We make introductions between businesses where we feel there will be common interest and value, often using knowledge gained by previous conversations or our own research.
This networking evening is EXCLUSIVELY URBANO MEMBERS ONLY .

URBANO NETWORK & CORONAVIRUS: THIS EVENT IS NOW POSTPONED AND WILL BE RESCHEDULED AT A LATER DATE.

For more information on how Urbano will continue facilitating connections and opportunities for its members, please click here: https://www.urbanonetwork.co.uk/urbano-network-events-and-coronavirus
**************************************************************************
Each Urbano event has a unique online Event Group where Urbano members can access the profiles and details of every attendee they meet to aid networking and follow-ups.
Unless otherwise stated as exclusively members only, non-member companies are welcome to book (at non-member rates) and send representatives to up to TWO Urbano events (one evening maximum) before needing to join to continue to develop valuable relationships across London's most dynamic business community.

To join Urbano in time to attend this event for free, please view benefits and options for Companies and Individuals.