London networking events - Urbano March Networking Lunch in City of London
Pitch Golf London
Pitch
62 Bishopsgate
London, EC2N 4AW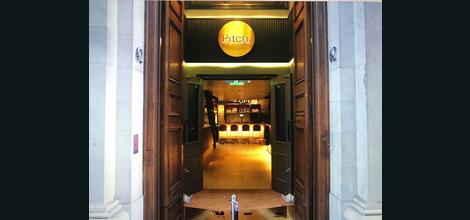 Friday March 25th

12:30pm
Member £25.00 + VAT
Non-Member £30.00 + VAT
Urbano Network hosts a varied calendar of weekly London networking events, including at least one networking lunch each month.
Urbano's networking events are open to all companies regardless of size, sector or area. Non-members are always welcome and our networking lunches always attract a lively mix of business owners, company directors, senior managers and corporate representatives from across all sectors, ensuring effective and valuable networking opportunities for all attendees.
Urbano lunches are very relaxed and informal. We help you make introductions most relevant to you and your business, but the conversations are friendly, with the emphasis on genuine conversations. The only pitching at this event will be a chip onto the virtual greens on screen!
Our hosts for our March networking lunch are Pitch Golf London, the fantastic membership club and venue featuring high tech golf facilities in the heart of the City of London. Pitch Golf London offers elite coaches, 5 GC2HMT bays, Swing Catalyst and SAM PuttLab.

We will be hosted in their membership lounge and coaches will be on hand to help those with low handicaps get back-spin or give those interested in the game get some tips before the sun starts to warm up the courses around London!

Urbano networking event (buffet)

Marina Pizza - Vegan
Margherita Pizza
Borek (Filo pastry with feta & spinach)
Calamari
All attendees will enjoy the above menu and complimentary drink courtesy of our hosts, with networking provided by Urbano's scratch facilitators.
URBANO NETWORK & CORONAVIRUS: THIS EVENT HAS BEEN POSTPONED AND WILL BE RESCHEDULED AT A LATER DATE. For more information on how Urbano will continue facilitating connections and opportunities fr its members, please click here: https://www.urbanonetwork.co.uk/urbano-network-events-and-coronavirus
__________________________________________________________________________
About Urbano
Urbano is London's largest and leading independent business networking community, connecting companies of all sizes and sectors in London and increasingly across the UK.
Urbano has around 400 member companies, from PLC to SMEs, our different communities: Build, Finance, Health, Host, Media, People, and Tech. Our diverse calendar of events - speaker breakfasts, networking lunches and evenings - are designed to bring together those that run, or have senior positions in, their companies, to learn, share new ideas and best practice, network and develop future business opportunities.
ANY COMPANY CAN SEND REPRESENTATIVES TO A MAXIMUM OF TWO URBANO EVENTS TO GAUGE THE QUALITY OF OUR EVENTS, MEET A RANGE OF MEMBERS AND DECIDE IF OUR PRO-ACTIVE APPROACH TO DELIVERING VALUE TO OUR MEMBERS IS THE RIGHT FIT FOR YOUR BUSINESS.
Membership starts at £25 per month for an Individual or £39 per month for Company. For benefits, options and fees, please click here: Urbano Membership