Urbano Top Table networking lunch in September
Les 110 de Taillevent London
16 Cavendish Square
London, W1G 9DD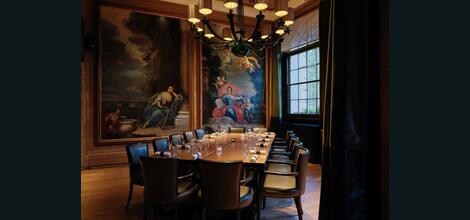 Wednesday September 20th

12:30pm
Member £95.00 + VAT
Non-Member £1000.00 + VAT
Urbano's Connector-In-Chief, Mark Herring, hosts quarterly networking lunches for Urbano Member Companies' founders, owners, and senior directors hosted at specially selected restaurants.

These Urbano Top Table networking events are a chance for those at the most senior level of our member companies to meet, connect, share stories and expereinces, learn from one another and explore future business opportunities with others with similar responsibilities in their own businesses - and all accompanied by fine food and at least one glass of something chilled.

Our September event sees us travel to the private room The Lamennais at Les 110 Taillevent, the fantastic modern French restaurant overlooking Cavendish Square in central London where we will enjoy a three-course lunch menu and a complimentary glass of wine.
Les 110 de Taillevent is a sister restaurant to Taillevent Paris, the iconic two-star Michelin restaurant. Following the steps of the founding father of French Gastronomy, Taillevent has been opened since 1946 and has won numerous awards as a restaurant and for its wine list.

Three course lunch Menu
CASHEW NUT SOUP (V)
Marcona almonds, kohlrabi, seasonal fruit
SQUID
Bell pepper, chorizo, courgette, butter sauce
***
WELSH LAMB SADDLE
Aubergine, yoghurt, blackcurrant, lamb jus
COD
Heritage tomatoes, basil, tomato broth
ROASTED CARROT (V)
Citrus beurre blanc, orange oil (vegetarian)

Sides of:
Tenderstem broccoli, sesame seeds, miso glaze
Roasted courgette, ricotta, sunflower seeds
Confit potatoes, morbier, shallot
***
HOT 70% CHOCOLATE MOUSSE
Signature of Les 110 de Taillevent
COX APPLE TERRINE
Cinnamon, Granny Smith sorbet

Tea or coffee plus complimentary glass of white or red wine.
Any allergies or dietary requirements, including vegan/vegetarian/non-dairy etc, please indicate in Notes when booking, along with your choice of red or white wine (or soft drink).

++ October Top Table lunch on Wednesday October 18th and hosted at Cafe Murano by Angela Hartnett in Covent Garden. Details and booking: Urbano October Top Table Networking Lunch ++

* Please note this event is for Urbano Company Member founders, owners, senior directors and partners. If you have a seat on your Board and/or responsible for strategy, please book. If you would like to reserve a second place, please put their name and role in Notes and we will be in touch.

If you have a question about this event, or want to join Urbano in time for this event, please email Mark.