Urbano Build Networking Lunch in Clerkenwell
The Piano Works
113-117 Farringdon Road
London, EC1R 3BX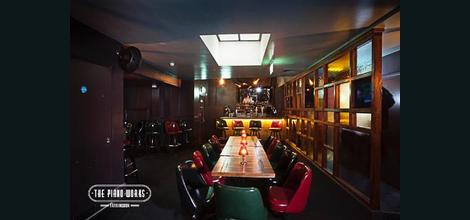 Wednesday May 24th

12:30pm
Member £28.00 + VAT
Non-Member £100.00 + VAT
Urbano Network hosts a varied calendar of weekly London networking events, including breakfast events featuring great speakers, networking lunches and a networking evening.
This networking lunch is being held under the Urbano Build community banner and has been timed to both celebrate and coincide with Clerkenwell Design Week.
** THIS EVENT IS NOW SOLD OUT. Email caroline to be added to the waiting list.
Urbano Build itself is a community within the pan-sector Urbano Network with its own programme of regular networking events in London aimed at architects, developers, property investors, designers, interior designers and other professionals associated with the built environment sector to make connections, gather information, create associations and find new business opportunities.
For more details about Urbano Build, please click here: Urbano Build
For details about this year's Clerkenwell Design Week, please click here: Clerkenwell Design Week
SEE OUR LATEST TENDERS LIST HERE INC OPPORTUNITIES IN CONSTRUCTION, ARCHITECT, BIM ETC Tenders @ Urbano **
Our hosts for this event is The Piano Works who will provide a special buffet lunch from their menu as well as offering two pianists to accompany our networking lunch.
~ Lunch Menu ~
Steak Skewers
Halloumi and Vegetable Skewers
Chicken Filled Mini Rolls
Chili Dogs
Mini Burger Sliders
With a mix of regular and sweet potato fries plus a complimentary glass of wine, beer or soft drink.
There are always plenty of chances to talk, share information, build associations and develop new business. We make introductions between businesses where we think there will be common interest and value, often using knowledge gained by previous conversations or our own research.
Each Urbano event has a unique online Event Group where every attendee and their company is profiled, accessed through your own Urbano Dashboard. Members get access to full contact details of every attendee. All attendees can access the profiles of people you meet at this event through the Event Group published after the event.
Non-member companies are welcome to book and send representatives to up to TWO Urbano events before needing to join to continue to develop valuable relationships across London's most dynamic business community.

To join Urbano in time to attend this event at appropriate member rates, please view benefits and options for Companies and Individuals. www.urbanonetwork.co.uk/membership
** PHOTOS FROM OUR NETWORKING EVENING **
A big thank you to the Piano Works for their hospitality