London Networking Event - Urbano Women in Business Networking Lunch
Lambeth Palace
Lambeth Palace
London, SE1 7JU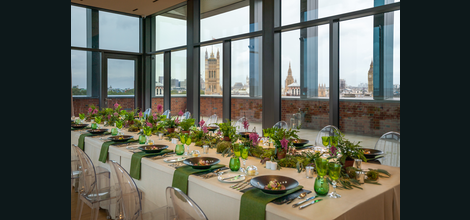 Wednesday June 19th

12:30pm
Member £28.00 + VAT
Non-Member £100.00 + VAT
Urbano Women In Business at Lambeth Palace - a special summer networking garden party exclusively for female representatives from Urbano Member companies only. See booking notes below.
** If you have experienced or are still experiencing any issues booking, apologies as we had server issues, but you can now book online, or if you prefer email with your query or booking requirements comms@urbano.network **
Urbano - championing diversity from the very beginning
Since Urbano began in 2011, we have had a proud track record of championing opportunities for women, especially in historically male dominated industries and sectors, such as construction and engineering. Around 50% of an Urbano event audience are female, many running their own companies or with senior positions at larger companies.
To develop deeper connections between women in SMEs and larger companies, we added a new community to Urbano for 2018: UWACTE (Urbano Women In Architecture, Construction, Technology & Engineering) where women in Urbano member firms can develop and enhance their connections across our network.
This networking event is deigned to bring together women from across our communities and sectors - Finance, Legal, Creatives, HR & Culture, etc and at all stages of careers - from Founders, Entrepreneurs and at Board level through to those starting out on their working life.
About our Host Venue Partner
Lambeth Palace is the London home of the Archbishop of Canterbury. The Palace is also used as an events venue for organisations and charities. During the summer the beautiful garden is often host to receptions and outdoor activities, with an in-house chef, catering team and rooms of various capacities accommodating up to 250.
For our networking garden party, we will be hosted in the Garden Marquee.
~ Menu ~
- Smoked Fish Seafood & Samphire Platter
- Lemon, Sumac & Herb Marinated Chicken Salad with Charred Mediterranean Vegetables & Israeli Cous Cous
- Lemon, Sumac & Roasted Halloumi & Spiced Paneer Salad with Charred Mediterranean Vegetables & Israeli Cous Cous
- Roasted Butternut Squash & Oven Dried Tomato, Pearl Barley, Pomegranate & Baby Spinach Salad served with a Smoked Aubergine Dressing
- Mixed Quinoa, Butterbean, Chickpea & Roasted Red Onion Salad
- Heritage Beetroot, Tomato, Basil and Orange Salad
- Cucumber & Poppyseed Salad
Desserts:
- Mini Chilled Apple Crumble
- Traditional Eton Mess
- Fruit Shots
- Brownies (GF)
Plus complimentary wine or soft drink alternative.

Booking Notes: Important notice about this event
1. Only Urbano Member companies can book and send their representatives to this event. There is an emphasis on supporting women in business making this event open to all genders and identities within Urbano Member Companies who support/lead diversity & engagement programmes.
2. We also have a limited number of guest passes available for charities. Email Caroline for availability & details.
3. Please state any dietary requirements when booking.
************************************************************************
About Urbano
Urbano Network is a powerhouse of connections and opportunities, hosting a diverse range of weekly networking events, from speaker breakfasts, lunches and evening events to masterclasses in networking and tendering.
Non-member companies are welcome to book and send their representatives to a MAXIMUM of TWO EVENTS to meet a small cross-section of our members, sample the quality of our events and find out about the other member services we offer. It also gives us a chance to meet you and discuss what you are looking for from your networking.
As part of our proactive approach to helping companies find new business leads, we send out a weekly Tenders & Opportunities Notice gathered from over 100 keywords relevant to our pan-sector membership (Media, Build, Finance, Host, People & Tech). For the latest list, please click here: Tenders @ Urbano
Membership starts at £25 per month for individuals. For more details on our membership options and benefits, including contact details of everyone you meet, search and free member events, please click here: Urbano Membership