Company Profile
Circus

Bringing together those in hospitality, tourism, leisure, bars and restaurants, food and drink

A networking community for those in branding, marketing, communications, digital, TV, film, and related media and creative sectors.
About Circus
Ridiculously tasty food. Impressively original cocktails. Spectacularly jaw-dropping performers. An event, designed to be shared. That's a night out at Circus. We don't do classy, we do swanky. We don't do smart, we do flamboyant. We're not discreet – we're all about the flaunt. If you've not been here before, what are you waiting for? If you're a returning customer, welcome back, and enjoy the show. It's time for some razzle-dazzle.
Circus is a restaurant conceived to give guests an amazing evening of escapist pop-up performances, without compromising on the incredible quality of the food. For over 10 years, we've been serving up delicious pan-Asian cuisine designed for sharing – created and overseen by Executive Chef Andrew Lassetter; and wowing people with a carefully chosen and ever-changing troupe of fire-breathers, contortionists, hula-hoopers and gravity-defying aerialists. All accompanied by an extensive wine list and signature cocktails from our late-night bar. Whether you're popping by for brunch, an evening meal or ringside seats at the Stage Table, we're confident you'll come away with a brilliant experience.
What to Expect:
- Pop up entertainment
- Restaurant and Bar tables
- Pan Asian cuisine
- DJ and dancefloor on Saturday nights
- Seated capacity - up to 150 guests
- Standing reception - up to 250 guests
- 21+ age restriction

Christmas at Circus
We are accepting standard restaurant and bar bookings over the festive season (20th Nov-end of Dec) which includes a fantastic festive dining menus (prices range from £65pp-£90pp) and our amazing pop up entertainment. Prepayment and terms & conditions apply.
We also offer exclusive venue hires over the festive season (20th Nov-end of Dec). Clients can customise their event with a choice of 4 acts, a choice of festive menus, welcome drinks and the drinks selection throughout. Based on a minimum spend which is date dependant (ranging from £8k-£35k). Max seated capacity - 140. Max Standing reception - 250.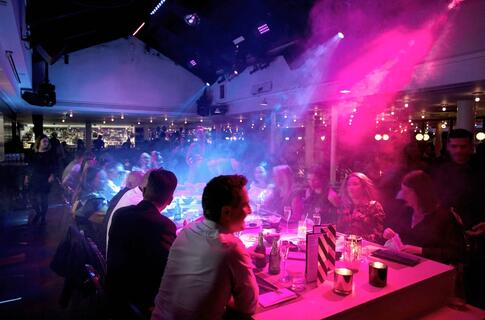 Representatives
Events Manager