London networking event - Urbano Build networking event for Clerkenwell Design Week 2019
Draft House Farringdon
55 Charterhouse Street
London, EC1M 6HA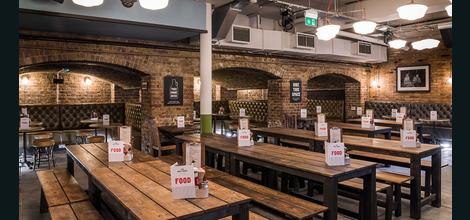 Wednesday May 22nd

12:30pm
Member £25.00 + VAT
Non-Member £32.00 + VAT
Urbano Network hosts a varied calendar of weekly London networking events, including breakfast events featuring great speakers, networking lunches and a networking evening.
This networking lunch is being held under the Urbano Build and UWACTE Communities banner and has been timed to both celebrate and coincide with Clerkenwell Design Week.
It is open to Urbano Members and non-members.
Note: If the booking link is not available please check availability via email
Urbano Build itself is a community within the pan-sector Urbano Network with its own programme of regular networking events in London aimed at architects, developers, property investors, designers, interior designers and other professionals associated with the built environment sector to make connections, gather information, create associations and find new business opportunities.
For details about this year's Clerkenwell Design Week, please click here: Clerkenwell Design Week

SEE OUR LATEST TENDERS LIST HERE INC OPPORTUNITIES IN CONSTRUCTION, ARCHITECT, BIM ETC Tenders @ Urbano **

There are always plenty of chances to talk, share information, build associations and develop new business. We make introductions between businesses where we think there will be common interest and value, often using knowledge gained by previous conversations or our own research.
Our event will be hosted by Draft House Farringdon. The Draft House is a small group of Public Houses which aims to do for beer what our culture has done for food and wine over the past twenty years. Namely, we take its provenance, cellaring and serving seriously. We celebrate choice and quality with an extra-ordinary range of strange and wonderful brews.
The Farringdon venue has an awesome beer hall downstairs with its own bar and four caves, all of which are available for private hire.


~ Networking Lunch Menu~
Our event will take place downstairs where attendees will enjoy Beer Food Feasts.
Meat/Fish Platters
Buffalo & BBQ Chicken Wings
Chilli-Salt Squid
Jalapeno Mac 'n' Cheese Balls
Whitebait
Fries & Dips
Vegetarian Platters:
Jalapeno Mac 'n' Cheese Balls
Fried Jerk Halloumi Fingers
Falafel & Houmous
Sweet Potato Fries & Dips
And a complimentary brew!

** Event not open to representatives to non-member law firms.
__________________________________________________________________________
Each Urbano event has a unique online Event Group where every attendee and their company is profiled, accessed through your own Urbano Dashboard. Members get access to full contact details of every attendee. All attendees can access the profiles of people you meet at this event through the Event Group published after the event.
Non-member companies are welcome to book and send representatives to up to TWO Urbano events before needing to join to continue to develop valuable relationships across London's most dynamic business community.

Membership starts at £25 per month for individuals. For more details on our membership options and benefits, including contact details of everyone you meet, search and free member events, please click here: Urbano Membership