Urbano Build networking evening in Clerkenwell
The Piano Works
113-117 Farringdon Road
London, EC1R 3BX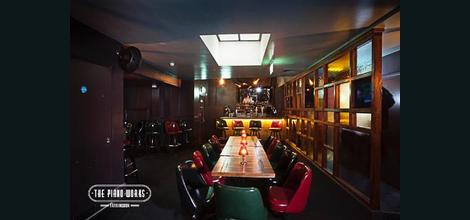 Wednesday May 24th

5:30pm
Member £12.00 + VAT
Non-Member £24.00 + VAT
For almost 20 years from our beginnings in Shoreditch in the mid 2000s, our focus at Urbano has been to connect companies to help them find areas where they can collaborate, improve each other as businesses and business people, and find new work opportunities.

Timed to coincide with Clerkenwell Design Week 2023, this networking evening* for our Urbano Build, UWACTE & Work communities will help bring together representatives from the architecture, design, workplace, furniture and other creative sectors based in Clerkenwell, Farringdon and across London including those company representatives visiting CDW.

Our hosts are The Piano Works Farringdon who will provide our guests with a selection of tasty food from the stars of their menu (see below) and a couple of complimentary drinks (wine/beers/soft drink). Plus live entertainment and our event guests can stay as the public enter as our event finishes.
Event Menu
Beef Sliders
(grass-fed British beef mini patties, mini brioche buns, lettuce & dijon mustard mayo)
Buttermilk chicken
bbq sauce (Farringdon), coconut sriracha mayo (West End)
Pineapple Nordic squid
(with coconut sriracha mayo)
Vegan tikka skewers
(with coconut raita)
Pumpkin mac 'n' cheese bites
(with truffle & parmesan mayo)
________________________________________________________________________


Corporate and events offer from Piano Works Farringdon!
20% off your bill when booking between Tuesday to Friday. Complimentary Prosecco reception when booking parties for more than 20 people. Contact Lara for details.

* Note change of event type and timings from previously published event
__________________________________________________________________
Notes
Published non-member price is for first-time visitors to Urbano.

Due to the nature of our events, bookings once made can be transferred to another representative of the booking company but cannot be cancelled and refunded.
Memberships pay for us to exist and to organise events. All Urbano events - unless stated - are open to non-member companies which can book a maximum of TWO Urbano events for their team members. We will notify you when this maximum has been reached.

To join Urbano in time for this event, please view benefits and options here: www.urbanonetwork.co.uk/membership